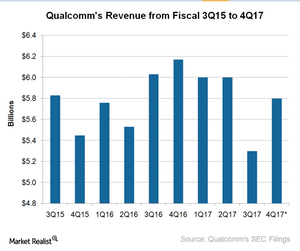 What Factors Are Affecting Qualcomm's Revenue Growth Story?
By Puja Tayal

Updated
Qualcomm's financial performance
So far, we've learned that Qualcomm (QCOM) is dealing with a ton of legal action at a time when it's preparing for its biggest acquisition of all time, that of NXP Semiconductors (NXPI).
Amid ongoing licensing disputes, Apple (AAPL) and one other licensee didn't pay royalties to Qualcomm, which negatively affected its fiscal 2017 earnings.
Article continues below advertisement
Qualcomm's revenue
Qualcomm's revenue fell 12% YoY (year-over-year) to $5.3 billion in fiscal 3Q17 as the 5% growth in its chipset business was more than offset by the 42% fall in its licensing business. On a dollar basis, Qualcomm's revenue fell $700 million, of which $500 million was due to the nonpayment of royalties by Apple.
What factors impact Qualcomm's revenue? 
QCOM's fiscal 3Q17 revenue was higher than its revised guidance of $5.2 billion at the midpoint. This better-than-expected revenue was due to a rich product mix in the company's chipset business, which included the full-quarter sales of its TDK joint venture and its high-end Snapdragon 835 processor.
The company's chipset revenue was also driven by growth in the automotive, networking, security, and smart device markets. During the quarter, Xilinx (XLNX) and NXP Semiconductors reported rises of 6% and 13%, respectively, YoY in their automotive revenues, indicating strong growth momentum in the market.
Article continues below advertisement
However, this growth couldn't offset the falls coming from the lack of licensing revenue from Apple and another major licensee. Qualcomm charges royalties on the ASPs (average selling price) of its end devices, and Apple's products have the highest ASPs. Qualcomm has deducted licensing revenue from the two licensees in its fiscal 4Q17 revenue guidance.
Fiscal 4Q17 revenue guidance
For fiscal 4Q17, which will end in September 2017, Qualcomm expects its revenue to fall 6% YoY to $5.8 billion as litigations continue to impact its licensing revenue. On a sequential basis, its revenue is likely to rise 9.4% driven by strong seasonal sales in the chipset business, which accounts for more than 75% of the company's revenue.
Most semiconductor companies serving Apple have revealed strong guidances for 2H17 on anticipation of strong sales of the iPhone 8, which marks the tenth anniversary of the iPhone. However, Qualcomm's participation in the iPhone 8 model isn't clear due to the ongoing licensing dispute.
Fiscal 2018 revenue guidance
Qualcomm's annual revenue has been on the decline since fiscal 2015 following its China antitrust issue. This trend is likely to continue in fiscal 2017. The company's annual revenue is likely to be ~$23 billion, a fall of 2% YoY.
However, things are likely to change in fiscal 2018 as NXP's annual revenue of ~$9 billion is added to Qualcomm's earnings. This should help to offset the $1 billion–$2 billion worth of licensing revenue that's under dispute. The combined QCOM-NXPI would have at least $30 billion in annual revenue.
Next, let's look at QCOM's profitability.