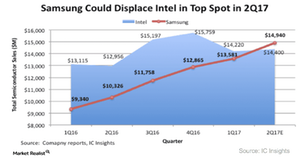 Samsung Threatens Intel's Position in the Semiconductor Industry
By Puja Tayal

Updated
Intel's growth slows
Intel (INTC) is currently suffering from slow growth. The company already has more than a 90% market share in two of the semiconductor industry's largest segments, PCs (personal computer) and server processors, so there's no room for growth via market share gain.
Moreover, the company is seeing increasing competition from Advanced Micro Devices (AMD) in the two markets mentioned above.
Article continues below advertisement
Market leadership under threat
In the data center market, a huge amount of server processor workload is being transferred to GPUs (graphics processing unit) and ASICs (application specific integrated circuit), reducing demand for server processors and posing a threat to Intel's data center business, which accounts for over 29% of its revenue.
In the PC market, Apple (AAPL) is looking to design its PC processors in-house, and Microsoft (MSFT) and Qualcomm (QCOM) are looking to bring ARM-based PC processors on board. These moves could threaten Intel's PC business, which accounts for over 55% of its revenue.
Intel is expanding into the fast-growing IoT (Internet of Things), memory, and AI (artificial intelligence) markets, but transitioning a $60 billion annual revenue business is no easy task. This transition could threaten Intel's top spot in the semiconductor industry, which it's held since 1993, in the near term.
Article continues below advertisement
Will Samsung snag Intel's top spot?
In May 2017, IC Insights forecast that Samsung (SSNLF) could overtake Intel to become the world's largest semiconductor company by revenue in 2Q17 if memory prices continued to rise.
In a report, Nomura Securities analyst CW Chung said, "The memory chip market has grown bigger than the CPU (central processing unit) market." Samsung is a leader in the memory market. Chung expects Samsung to generate $15.1 billion in semiconductor revenue and Intel to generate $14.4 billion in revenue in 2Q17. For the year, he expects Samsung's semiconductor revenue to reach $63.6 billion and Intel's revenue to reach $60.5 billion.
Chung stated that Samsung would not only overtake Intel in terms of revenue but also in terms of profit. In 1Q17, Samsung generated $5.6 billion in operating income, while Intel generated $3.9 billion. Chung expects Samsung's operating income to rise in the double digits and Intel's operating income to remain flat on a sequential basis.
The above estimates are based on the assumption that DRAM (dynamic random-access memory) and NAND prices will continue to rise throughout 2017. Chung noted that DRAM prices rose 25% and NAND prices rose 15% in 1H17. It remains to be seen whether Samsung can hold the top position in the long-term when memory prices fall.
However, Intel is overlooking these short-term disadvantages, as it has its sights set on the long-term goal of tapping a $250 billion total addressable market. Next, we'll look at the growth opportunity Intel is eyeing.