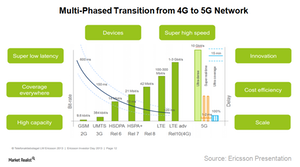 A Look at Qualcomm's Multiphased Transition to 5G Technology
By Puja Tayal

Aug. 3 2017, Updated 10:35 a.m. ET
The 5G opportunity
Qualcomm (QCOM) is expanding into adjacent markets to boost its growth. The company is also working on the next big technology breakthrough: 5G (fifth-generation) technology. 
At the Mobile World Congress Shanghai 2017, Qualcomm's CEO, Steve Mollenkopf, stated that 5G technology would present a $12 trillion revenue opportunity by 2035, of which $2.4 trillion would come from automotive alone.
Article continues below advertisement
Qualcomm's transition to 5G
At the Bank of America Merrill Lynch Global Technology Conference, Qualcomm's president of CDMA Technologies, Cristiano Amon, explained the company's transition to 5G technology. He stated that Qualcomm's multimode modems and seamless transition between 4G (fourth-generation) and 3G (third-generation) technologies have made it a leader in both spectrums. However, the transition from 4G to 5G isn't like the transition from 3G to 4G. The 4G network isn't static, and it's evolving closer to 5G technology.
A 5G network would require more spectrum availability, higher speeds, and lower latency. The way to achieve this would be to upgrade the 4G network to lower latency using the 3GPP (3rd Generation Partnership Project) feature and improve speeds by upgrading to Gigabit LTE (long-term evolution). The network would then move to 5G technology, which again would have two variants: the sub-6 GHz (gigahertz) spectrum, which would have multiple units of gigabits below six, and the millimeter wave, which would have multiple tens of gigabits.
Article continues below advertisement
Qualcomm's 600 MHz spectrum to give way to the future GHz spectrum
Before moving to the GHz 5G network, Qualcomm is upgrading its MHz (megahertz) 4G network to LTE. It's looking to commercialize the 600 MHz spectrum by launching LTE products. Qualcomm' Snapdragon X20 LTE modem and RF transceiver bring 600 MHz capability to devices. The company also launched the world's first 1 Gigabit LTE modem, the Snapdragon X16 LTE modem.
With the help of Qualcomm's products, T-Mobile (TMUS) expects to benefit from its 600 MHz spectrum as early as 2017. Twenty more telecommunications operators across the world are deploying Gigabit LTE as they move toward 5G technology.
Qualcomm looks to run both 4G LTE and 5G simultaneously
Qualcomm is currently testing 5G networks. It's seeking a license to test the 5G technology within the 3.5 GHz frequency band, as this frequency is being considered by several countries for the upcoming 5G wireless standard. QCOM's receiving this license would increase its chance of providing spectrum globally.
Major US telecommunications operators, including Verizon Communications (VZ), T-Mobile, and AT&T (T), are looking to commercialize the 3.5 GHz spectrum. The Citizens Broadband Radio Service is defining standards to allow the telecommunications supply chain to deploy 4G LTE networks in the 3.5 GHz band.
The 5G opportunity will materialize over the long term. In the meantime, China presents a short-term growth opportunity for Qualcomm. We'll explore this opportunity in the next article.