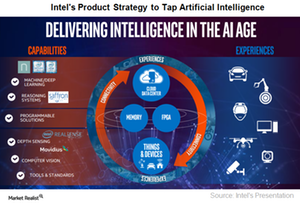 A Look at Intel's Transition to a Data-Centric Company
By Puja Tayal

Updated
Intel's four growth vectors
Intel (INTC) is undergoing a multiyear business transition to boost its growth and address its changing technology needs. The company is a leader in the PC and server processor markets.
However, the mobile and IoT (Internet of Things) revolution has reduced the demand for PCs as consumers use smartphones for their basic computing needs. As a result, Intel is shifting its focus away from PCs toward its four growth vectors of the data center, IoT, memory, and FPGAs (field programmable gate arrays).
Article continues below advertisement
Intel's strategy to become a data-centric company
At its 2017 Annual Shareholders Meeting, Intel's chief executive officer, Brian Krzanich, reiterated the company's strategy to become a data-centric company. He stated that the company aims to be at the center of the data economy, supporting data from its generation to transition to processing.
Data generation
Data is generated by end devices that have a chip and memory inside. In the data economy, numerous smart products generate data, including cameras, home appliances, PCs, wearables, and even factories. Intel's PC and IoT businesses develop processors for these devices that help them collect and store data.
Article continues below advertisement
Data transmission
The data stored in individual devices is worthless if it isn't compared with other data. For instance, if consumers use wearables to measure pulse rate or steps walked, they need to compare this data with their set goals and compare the data with the norm.
As a result, the data collected must be transmitted to the data center. This transmission is provided by Intel's networking infrastructure products, modem connectivity, and Wi-Fi solutions. Here, Intel competes with Qualcomm (QCOM) and Broadcom (AVGO), which are leaders in the mobile connectivity and communications semiconductor space.
Data processing
Once the data reaches the cloud and the data center, where all other data is accumulated, the data is analyzed to make it meaningful. Intel's x86-based server processors lead the data center space, as its market share exceeded 99%.
Accelerant technologies
However, the emergence of machine learning and artificial intelligence has created the need for accelerated computing, and NVIDIA (NVDA) is leading in this space. Intel is catching up with NVIDIA with its Xeon Phi solutions, including FPGA accelerators that bring software inside silicon and allow algorithms to occur at a faster rate.
Intel is also investing in memory such as 3D NAND and 3D XPoint, which brings data closer to computing, thereby enhancing the performance of the processor. Advanced Micro Devices (AMD) is looking to improve its graphics processor's performance by bringing memory closer to computing.
This transition to a data-centric company has increased Intel's expenditures and slowed its growth in fiscal 2017. In this series, we'll see what investors should expect from the company's 2Q17 earnings, which are due to be released on July 27, 2017.