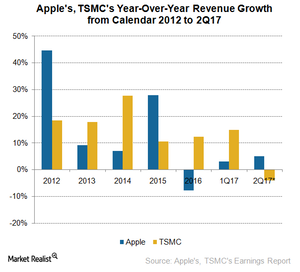 Will Apple's iPhone 8 Bear Fruit for TSMC in 2017?
TSMC to manufacture Apple's A11 processors
In the previous part of this series, we saw that Apple's (AAPL) contract manufacturers and component suppliers have started ramping up production earlier than expected in preparation for the iPhone 8. This is true even in the case of Taiwan Semiconductor Manufacturing (or TSMC) (TSM), the world's largest third-party foundry with a 56.0% market share.
TSMC manufactures A-series processors for iPhones. According to a DigiTimes report, the foundry is manufacturing A11 processors for the upcoming iPhone models on its 10nm (nanometer) FinFET (Fin Field-Effect Transistor) process node. This marks the foundry's shift to a smaller node.
The report stated that TSMC initially planned to start manufacturing A11 chips in April 2017 but postponed it to May 2017 due to some technical difficulties.
Article continues below advertisement
TSMC's dependence on Apple increases 
Many analysts have noted that TSMC's exposure to Apple is increasing. As you can see in the above graph, TSMC's and Apple's revenue grew in opposite directions in 2016. TSMC's revenue rose 12.0% YoY (year-over-year), while Apple's revenue fell 7.7% YoY.
Apple previously used TSMC and Samsung (SSNLF) foundries to manufacture its A9 chips. But in 2016, a report in MacRumors stated that Apple selected TSMC as its exclusive manufacturer of A10 processors for the iPhone 7 line, which increased the foundry's revenue despite a fall in iPhone sales.
That saw Apple's contribution to TSMC's revenue increase from 9.0% in 2014 to 17.0% in 2016. Mark Li, an analyst at Sanford C. Bernstein, expects Apple's contribution to TSMC's revenue to rise to 21.0% in 2017 as the foundry continues to be the sole supplier of A11 chips. He stated that since 2012, TSMC's revenue has risen 87.0%, of which 42.0% came from Apple alone.
In its fiscal 1Q17 earnings call, TSMC co-chief executive officer Mark Liu stated that seasonal demand for premium phones would drive its revenue in the second half of fiscal 2017. This seasonality was witnessed in 2016 as well. He stated that the foundry will expand its customer base to mitigate the risk arising from increasing its dependence on Apple.
TSMC's earnings in Apple's absence
Many analysts believe that Intel (INTC) is looking to approach Apple to give it the contract to manufacture Apple's ARM- (Advanced RISC Machines) based A-series processors. If Apple dual-sources or completely abandons TSMC, then TSMC's revenue would be adversely impacted. Moreover, any delay in iPhone shipments would impact its 2017 earnings.
Some analysts believe that iPhone 8 production could be delayed by a few months. Let's look at that next.