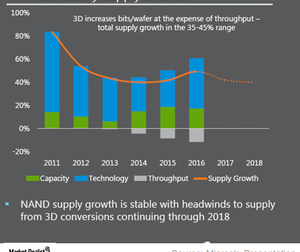 Micron's View of the NAND Industry Supply
By Puja Tayal

Updated
NAND industry supply
In the previous part of this series, we saw that Micron Technology (MU) expects 3D NAND demand to increase significantly due to strong growth in the storage and mobile markets. The NAND market saw a slow supply growth in the first half of 1017 after the players took planar NAND capacity offline to install 3D NAND equipment.
This created a tight supply situation in the NAND market. However, supply is likely to improve in the second half of 2017 as industry players bring their 3D NAND capacities online.
Article continues below advertisement
Capital spending in the NAND market
Samsung (SSNLF) plans to start production of its 64-layer NAND chip at its newly built plant in South Korea in July 2017. The joint venture of Toshiba (TOSBF) and Western Digital (WDC) plans to start production of 64-layer 3D NAND chips by the second half of 2017. After producing 36-layer and 48-layer 3D NAND chips, SK Hynix launched its 72-layer 3D NAND products. It plans to start mass production of the 72-layer chip in the second half of 2017.
Micron has transitioned more than 50.0% of its NAND output to 3D NAND and plans to increase that to 75.0% in 3Q17.
Could new capacity lead to NAND oversupply?
Micron's chief financial officer Ernest Maddock doesn't expect all the new 3D NAND capacity coming online in the second half of 2017 to create an oversupply situation for the next 12 to 18 months. He expects all the new capacity to be absorbed due to strong demand from Apple (AAPL) for its next iPhone and increasing demand from SSD (solid state drive) vendors.
At the Bank of America Merrill Lynch 2017 Global Technology Conference, Maddock said that 3D NAND technology requires high capital expenditure because the technology is new. As the technology matures, its capital intensity will abate.
In the next part of this series, we'll look at Micron's strategy for 3D NAND.