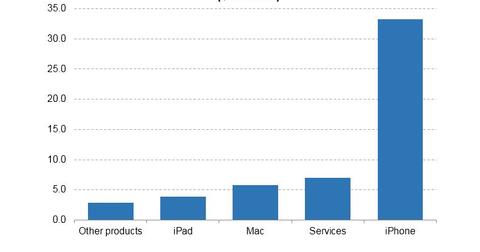 Can Apple Get Away with a Dramatic iPhone Price Hike?
By Ruchi Gupta

Updated
iPhone 8 to cost $1,000 for a starter
Apple (AAPL) is gearing up to launch the priciest iPhone the world has ever seen, according to researchers at Goldman Sachs. In a recent note to investors, researchers claimed that the next iPhone, thought to be called the iPhone 8, would start at $1,000 for a model with 128 GB of storage, and the 256 GB storage variant would go for $1,100.
This pricing implies that the entry-level iPhone will be ~$130 more expensive that the current most expensive iPhone, the iPhone 7 Plus.
Article continues below advertisement
Cutting iPhone prices to help Services
What seems interesting is that Apple is preparing to sell its most expensive iPhone ever at a time when suggestions have been made that it should cut its device prices to stay competitive.
Some have even suggested that lowering iPhone prices could support Apple's goal of doubling its Services business by 2020. The argument is that cheaply priced iPhones would sell both more and more quickly, expanding the market for the Services segment. Apple pulled in $33.2 billion in iPhone sales and $7.0 billion in Services sales in its most recent quarter.
Rejecting the price cut suggestion
If Apple sells the iPhone 8 at the above-mentioned prices, it will send out two clear messages. The first is that it's not keen to take profits from its iPhones to subsidize its Services segment. The second is that it feels it can continue competing from a position of strength despite all the odds being stacked against it.
A challenging industry
Though the global Smartphone market is growing, this growth isn't robust. Smartphone penetration in developed markets is hitting a peak, and emerging markets (EEM) aren't expanding rapidly enough.
Additionally, competition has caught up with Apple in the premium Smartphone market, where it's no longer watching out for just Samsung (SSNLF), but also Microsoft (MSFT) and China's (FXI) Smartphone vendors Huawei, Xiaomi, and Oppo.