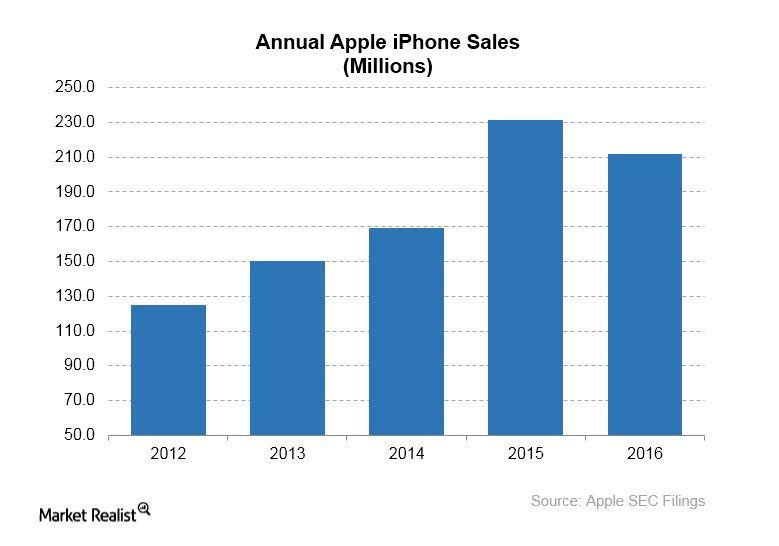 Apple Hopes to Prevail in Several Patent Lawsuits
By Ruchi Gupta

Dec. 4 2020, Updated 10:51 a.m. ET
Suits and countersuits in patent wars
Aside from the stiff competition that Apple (AAPL) is facing from Samsung (SSNLF) and Huawei in the smartphone market, the tech giant is fighting patent wars on several fronts. If Apple prevails, it could potentially save billions of dollars in royalties. If Apple doesn't prevail, it could feel a serious financial sting.
Apple is embroiled in high-stake patent disputes with Qualcomm (QCOM) and Nokia (NOK) featuring suits and countersuits. Qualcomm recently sued four Apple suppliers, including Foxconn, for withholding royalties as a result of Apple's instructions. The move to sue these suppliers is seen as a tactic by Qualcomm to press Apple for a speedy settlement of their dispute.
Nokia, also claiming violations of its patents by Apple, has also sued the iPhone maker in several regions such as the US (SPY) and Germany.
Article continues below advertisement
Sweet savings if Apple wins
According to analyst Maynard Um of Wells Fargo, Qualcomm takes a 2.7% cut on the price of Apple products that feature its technology, while Nokia receives 0.2%.
Apple sold 211.9 million iPhones in fiscal 2016 compared to 231.2 million in fiscal 2015. The average selling price of an iPhone was $655.00 in the March 2017 quarter (Apple's fiscal 2Q17). If Apple successfully repels the demands of these patent holders, it could save significant amounts in royalty expenses.
Bitter pill to swallow if Apple loses
However, if Qualcomm and Nokia prevail in their demands against Apple, the iPhone maker could face a painful financial pinch. Um estimates that if Nokia were to secure a 1.5% royalty rate from Apple, it could wipe $0.20 off Apple's EPS (earnings per share). Apple could experience a similar EPS impact if Qualcomm's rates stay at 2.7%.