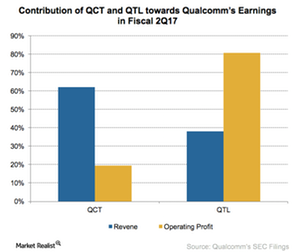 Will the Qualcomm-BlackBerry Case Start a Ripple Effect?
By Puja Tayal

May. 19 2017, Updated 9:06 a.m. ET
Qualcomm-BlackBerry case
So far, we've looked at the licensing dispute between Apple (AAPL) and Qualcomm (QCOM). However, Qualcomm is surrounded by many more legal and regulatory disputes over its licensing practices.
In April 2017, a binding arbitration ruling had Qualcomm pay BlackBerry (BBRY) $815 million plus interest and attorneys' fees over licensing disputes. Qualcomm didn't agree with the ruling, but it couldn't appeal, as the decision was binding.
Qualcomm has already accrued the instructed amount in its fiscal 2Q17 GAAP (generally accepted accounting principles) revenue, but the amount will be payable after a hearing on May 30, 2017, meaning that its cash flows will fall significantly in fiscal 3Q17.
Article continues below advertisement
What's the Qualcomm-BlackBerry dispute about?
Qualcomm's patent license agreements are different for different Smartphone makers. In a research note, BMO Capital Markets analyst Tim Long gave some insight into this particular case. He explained that the BlackBerry licensing deal required bulk royalty prepayments for devices sold from 2010 to 2015. These prepayments were non-refundable.
According to Long's estimates, BlackBerry paid Qualcomm $2 billion–$2.3 billion in prepaid royalties. The handset maker sold 53 million devices in 2012, but its sales fell to just 7 million devices in 2015. Thus, BlackBerry had overpaid royalties when its sales fell. The dispute revolved around whether Qualcomm's per-device royalty cap applied to BlackBerry's nonrefundable royalty prepayments.
Qualcomm's take on the BlackBerry case
On Qualcomm's fiscal 2Q17 earnings call, its president, Derek Aberle, highlighted that even though the company had been ordered to refund the prepaid royalties, BlackBerry had paid Qualcomm royalties on the selling price of the phones it sold.
Aberle stated that BlackBerry's contract is unique and has no bearing on its other licensing agreements, relieving analysts' concerns that this arbitration ruling would fuel claims from other Smartphone makers.
Qualcomm's ongoing regulatory disputes
Apart from the BlackBerry case, Qualcomm has been facing several probes from regulators in various countries.
In fiscal 1Q17, South Korea's (EWY) FTC (Fair Trade Commission) fined Qualcomm $873 million for using monopolistic licensing practices. Qualcomm has already accrued the amount of this fine in its fiscal 1Q17 GAAP revenue, but it's appealed the fine to the Seoul High Court. It claims that the ruling is inconsistent with the facts and violates American companies' rights under the United States–Korea Free Trade Agreement. The court's ruling is likely to come in a few months.
Qualcomm is facing a similar accusation by the US FTC (Federal Trade Commission). The company has filed a motion to dismiss this complaint, as it's not backed by any facts or economic theory that show Qualcomm's practices have harmed the competition.
Qualcomm is also facing probes in Taiwan and Europe, but they're not related to its licensing business or practices.
Next, let's look at the impact of these legal and regulatory issues on Qualcomm's earnings.