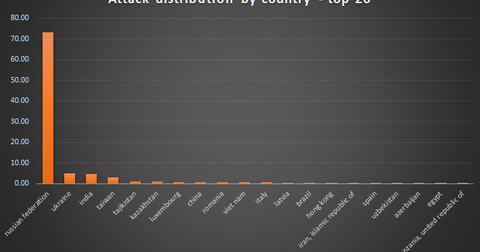 Why WannaCry Made Almost 150 Countries Wanna Cry
By Anne Shields

Updated
Countries affected the worst
Earlier in this series, we saw that cybersecurity stocks rose significantly last week on the back of the latest WannaCry cyberattack on May 12, 2017. Those stocks include Proofpoint (PFPT), FireEye (FEYE), and Fortinet (FTNT). The cyberattack started first in the United Kingdom (EWU) and Spain.
Let's look now at the countries that took the worst malware hits. According to Avast, Russia, Ukraine, India (EPI), and Taiwan were hit the worst among the 150 countries that were affected by WannaCry ransomware.
Article continues below advertisement
WannaCry used Bitcoin as ransom payment method
Computer users affected by the WannaCry ransomware were asked to pay $300 to $600 through Bitcoin or face the risk of locked computers or data losses. Bitcoin, the world's first decentralized digital currency, known as cryptocurrency, is used widely for online payments.
Blockchain, considered to be a disruptive technology, is the foundation of Bitcoin. All leading technology players and banks, namely IBM (IBM), Microsoft (MSFT), Goldman Sachs (GS), JPMorgan Chase (JPM), and CME Group, are investing heavily in blockchain technology.
Hackers deploying ransomware often ask for Bitcoin payments since they are believed to be anonymous. However, law enforcement agencies seem to have devised ways to track them. These agencies are tracing Bitcoin addresses, which are required to make payments to organizations or other people. The tracing becomes clearer when the hackers make an attempt to extract the bitcoins in their preferred currency.
James Smith, CEO (chief executive officer) of Elliptic, commented on how hackers can be traced. He said, "In previous cases we have been able to work with law enforcement to see where the funds move because ultimately the attacker wants to turn it back into a currency they want to spend." London-based Elliptic is a start-up company that works with law enforcement to track hackers who use the Bitcoin cryptocurrency.