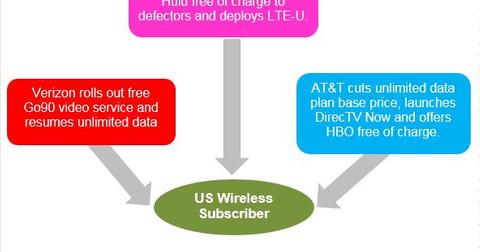 Why T-Mobile Is Interested in LTE-U Technology
By Ruchi Gupta

Updated
Dealing with traffic congestion
T-Mobile (TMUS) is enhancing its network with LTE-U deployment. LTE-U is a form of wireless connection that utilizes unused Wi-Fi channels. However, Wi-Fi providers opposed its deployment, as they worried it would interfere with Wi-Fi signals.
For carriers like T-Mobile, LTE-U provides an opportunity to expand network capacity, as it is suitable for deployment in dense locations such as stadiums and college campuses to reduce traffic congestion problems. The carrier says LTE-U will help it bring its Gigabit LTE service to more regions so that its subscribers can experience what it calls "blazing-fast speeds."
Article continues below advertisement
Rivals making counter moves
Though steep price discounting and dropping restrictive contracts have helped T-Mobile gain subscribers at the expense of Verizon (VZ), AT&T (T), and Sprint (S), the company seems to be working to hold onto its gain by bolstering the customer experience. Verizon and AT&T are also trying to lure customers with sweetened deals. For example, AT&T is offering free HBO subscriptions to customers who purchase its unlimited data plan and it also zero-rates its streaming video service called DirecTV Now.
These moves by the leading carriers could limit T-Mobile's ability to poach their customers if T-Mobile doesn't give them a compelling reason to stay with it.
Hunting the hunter
T-Mobile faces the risk of the hunter becoming the hunted. While LTE-U will pave the way to reduce network traffic congestion and boost network speeds, it is a technology that its rivals are also working to deploy. Furthermore, LTE-U won't improve life for everyone, at least not immediately. So far only Samsung's (SSNLF) Galaxy S8 supports LTE-U connections, which means the impact of the technology will be limited in the near term.