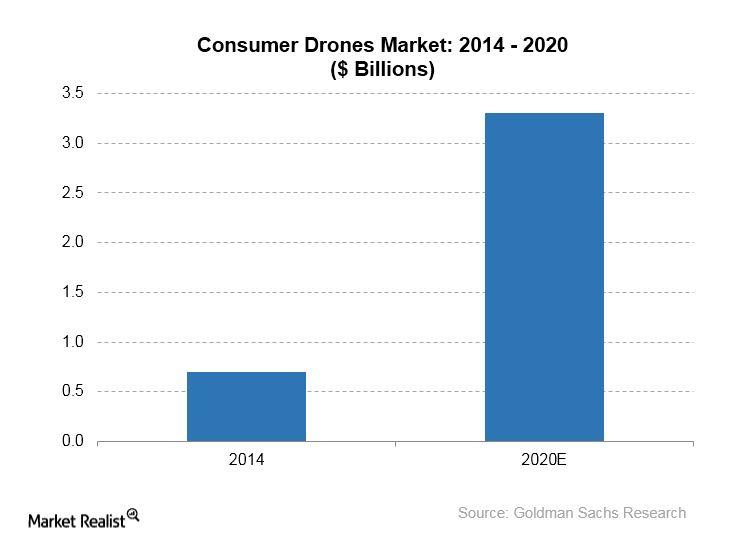 Why Microsoft Is Going into the Drone Business
By Ruchi Gupta

Nov. 20 2020, Updated 11:55 a.m. ET
Flying drones safely
Earlier this year, Microsoft (MSFT) joined other investors in raising $26.0 million for a drone-oriented startup called AirMap. That marked the first time that Microsoft Ventures invested in a startup focused on developing drone technologies.
AirMap develops software systems that enable drone operators to recognize flight conditions as well as become aware of local and national airspace rules to help them fly their drones safely. Air traffic controllers can also use AirMap's software to be aware of drones flying nearby.
Article continues below advertisement
A $100 billion drone market opportunity
Drones are among the emerging technologies with a rosy economic outlook. Goldman Sachs Research estimates that the overall drone market could be worth ~$100 billion by 2020. Commercial drones are expected to find applications in a range of industries such as construction, energy, and transportation. Amazon (AMZN) is one of the companies eyeing drones for commercial applications in package delivery.
The consumer drone market is also shaping up to be a huge opportunity that Goldman Sachs estimates could be worth ~$3.3 billion by 2020, growing from a tiny base of just $700.0 million in 2014. GoPro (GPRO) is one of the makers of consumer drones.
Unlocking cloud computing opportunities
According to Nagraj Kashyap, corporate vice president of Microsoft Ventures, Microsoft isn't interested in building drones like GoPro. So, what's the point of investing in AirMap? The investment in the startup is a strategic move by Microsoft to unlock new opportunities for its cloud infrastructure business, Azure. Microsoft could gain if AirMap uses the Azure platform to deliver its drone software service to customers.
Other backers of AirMap outside Microsoft are Sony (SNE) and Qualcomm (QCOM).