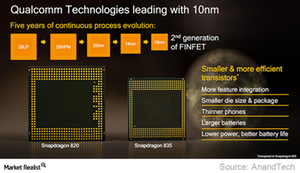 What's Driving Demand for Qualcomm's Snapdragon 835?
By Puja Tayal

Updated
Snapdragon 835 demand exceeds supply
Qualcomm (QCOM) reported strong growth in the QCT (Qualcomm CDMA Technology) segment in fiscal 2Q17. One of the factors that drove the segment's revenue was the launch of the Snapdragon 835 SoC (system-on-chip), the company's first 10nm (nanometer) SoC.
The company stated that it's witnessing strong demand for its Snapdragon 835 from several handset makers who want to feature the SoC in their new premium-tier devices, including the Samsung (SSNLF) Galaxy S8 and S8 Plus, the Sony (SNE) Xperia XZ Premium, and the Xiaomi Mi 6.
Article continues below advertisement
Snapdragon 835 goes beyond Smartphones
The demand for the 835 is going beyond Smartphones. Osterhout Design Group's AR (augmented reality) smart glasses and Microsoft's (MSFT) always-on cellular Windows 10 PCs (personal computer) are being powered by the 835.
What made Snapdragon 835 popular?
Qualcomm's Snapdragon 835 processor is faster and more power-efficient than its predecessor 821, as it's built on Samsung's 10nm process. The smaller sizes of these chips have led to thinner phones.
Snapdragon 835 features Qualcomm's X16 Gigabit LTE (long-term evolution) modem, the industry's first modem that delivers one-gigabit-per-second download speeds on devices.
Snapdragon 835 consumes lower power and gives Smartphone makers more space to use larger batteries, improving battery life.
Snapdragon 835 features the Qualcomm Quick Charge 4.0, which the company claims is four times faster than the conventional charging technology and 30% faster than its predecessor, the Quick Charge 3.0. As the processor operates at lower power, it also generates less heat.
Article continues below advertisement
Qualcomm to benefit from early entry in gigabit LTE modem
More and more carriers across the globe are planning to launch gigabit LTE networks. This implementation should make Qualcomm's early entry into the gigabit LTE market a success. The Samsung Galaxy S8 is supporting gigabit LTE in its most recent versions in North America, China, and Japan. It will take Intel (INTC) at least one year to launch its Gigabit LTE-modem XMM 7560. By that time, Qualcomm will likely have gained a strong market share.
Upcoming Snapdragon 800 series
Qualcomm built its Snapdragon 835 chips on Samsung's 10nm LPE (low power early) node, which has lower yields because it's a shift to a smaller, more complex node. The chip supplier may build its next SoC on Samsung's planned 10nm LPP (low power plus) node.
As the 10nm LPP node is just a performance-enhanced version of its predecessor, the 10nm LPE, there may not be any yield issues. Wccftech and Tweaktown reported that Qualcomm's next SoC is likely to come in 2018 and be named Snapdragon 845. This name accidentally appeared on Qualcomm's official website.
Qualcomm has also launched products for upper-mid and mid-tier phones. We'll look into this next.