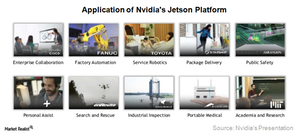 What Opportunities Does Jetson TX2 Bring for NVIDIA?
By Puja Tayal

Updated
Performance of NVIDIA's Jetson TX2
NVIDIA (NVDA) is looking to bring AI (artificial intelligence) to the edge with its Jetson embedded computing platform. It's recently launched its second-generation Jetson TX processor, which can deliver performance at two levels:
two trillion FLOPS (floating point operations per second) while consuming 15 watts
one trillion FLOPS while consuming less than 7.5 watts—twice the performance and power efficiency of its predecessor, Jetson TX1
The Jetson TX2 is built on the same platform as the TX1 and has the same physical dimensions of five inches in length and width. This makes it easier for hardware manufacturers to use the upgraded SoC (system-on-chip) without making major changes to the designs of their devices.
Qualcomm (QCOM) follows a similar approach with its ARM-based Snapdragon SoC. It has designed several Snapdragon processors for the wearables, automotive, and industrial spaces.
Article continues below advertisement
NVIDIA's Jetson platform in use
The Jetson TX2 is ideal for technology products such as factory robots, commercial drones, autonomous cars, and smart cameras. Cisco (CSCO) is using the Jetson platform to add facial and speech recognition capabilities to its Cisco Spark products. Enroute is using the Jetson platform to power autonomous search and rescue drones.
If voice recognition is required to search a video on Youtube or the Internet, it needs to be connected to the cloud. Jetson can connect to the cloud with its connectivity solutions. NVIDIA has priced the Jetson TX2 Developer Kit at $599 and the Jetson TX2 SoC at $399.
Drone market outlook 
According to a PricewaterhouseCoopers report, the world drone market is expected to grow 150x to $127 billion by 2020. The Jetson platform should help NVIDIA to gain market share in this rapidly growing market.
Next, we'll look at NVIDIA's efforts in the automotive market.