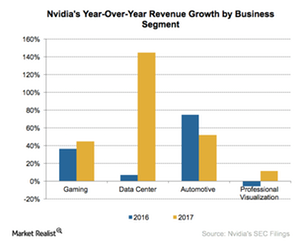 NVIDIA's Graphics Processing Story: Gaming and Beyond
By Puja Tayal

Updated
NVIDIA has more to it than gaming
NVIDIA (NVDA) took the gaming market by storm with the launch of the second Pascal GPU (graphics processing unit) in its Titan series, the GeForce GTX 1080 Titan Xp. While gaming will continue to be NVIDIA's bread and butter for the coming few quarters, things are moving quickly in its adjacent markets.
The company witnessed a breakthrough year for its Pascal-based Tesla GPUs, which are designed to support AI (artificial intelligence) workloads in the data center space. This growth has made NVIDIA a market leader in the deep learning space. Advanced Micro Devices (AMD) and Intel (INTC) are following fast, but NVIDIA continues to enjoy a greater market share than its competition.
Article continues below advertisement
NVIDIA is at the forefront of autonomous vehicle technology. Intel and Qualcomm (QCOM) follow closely behind with some major automotive-related acquisitions. Intel is acquiring ADAS (advanced driver assistance system) leader Mobileye, and Qualcomm is acquiring automotive semiconductor leader NXP Semiconductors (NXPI).
NVIDIA's high-end gaming GPUs 
NVIDIA dominates the high-end enthusiast market as AMD's Radeon GPUs face difficulty challenging NVIDIA's high-end offerings, including the GTX 1070, the GTX 1080, the GTX 1080 Ti, and the Titan Xp.
Pascal was the first architecture on which NVIDIA launched two Titan GPUs. According to some analysts, the new Titan GPU is NVIDIA's preparation for AMD's Vega GPU, which will mark the latter's entry into the high-end market.
Article continues below advertisement
GTX 1080 Ti versus Titan Xp
The Titan Xp features 3,840 cores with a boost clock speed of 1,582 MHz (megahertz), whereas the GTX 1080 Ti features 3,584 cores with a boost clock speed of 1,531 MHz. The Titan Xp has a memory bandwidth of 547.7 Gbps (gigabits per second), way higher than the 1080 Ti's memory bandwidth of 480 Gbps and mainstream graphics card's bandwidth of ~200–250 Gbps.
NVIDIA's mid- and low-end gaming GPUs
NVIDIA's mid- and low-end GPU offerings for gaming include the GeForce GTX 1060, the GTX 1050, and the GTX 1050 Ti, which compete with AMD's Radeon RX 480, 470, and 460 GPUs. AMD recently launched an upgraded version of its Polaris GPUs under its RX 500 series.
This move started the rumor mill churning, with many unnamed sources claiming that NVIDIA could launch the GTX 1030 in the low-end segment. Sources claim that the GTX 1030 would be the last GPU built on the company's Pascal architecture.
According to several rumors, the GTX 1030 is believed to feature 512 stream processors and 1 GB or 2 GB memory. Rumors also state that NVIDIA will launch mobile variants of the GTX 1030 and ensure that these variants deliver similar performances to the desktop versions.
In this series, we'll look at NVIDIA's past and upcoming products and how they could impact its earnings.