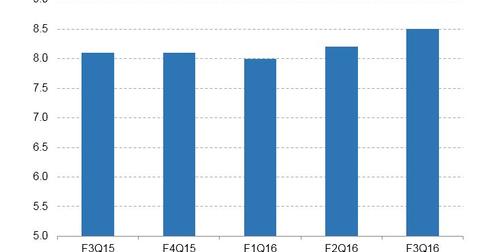 Is Sprint Running Out of Survival Options?
By Ruchi Gupta

Updated
Washington seems likely to entertain consolidation
Sprint (S), the number four carrier in the US (SPY), needs to sharpen its competitive edge, but how to do so is the major question. To survive the fierce competition in the US wireless market, it seems the best option for Sprint is to merge with T-Mobile (TMUS) or sell to either AT&T (T) or Verizon (VZ). It has tried the first option without success. Could it succeed with another attempt?
The Obama administration, which aimed to maintain four national carriers, blocked Sprint's attempt to acquire T-Mobile in 2014. The Trump administration seems more likely to entertain consolidation in the telecom industry. Thus, a merger between Sprint and T-Mobile is more likely to happen in the prevailing regulatory environment.
Article continues below advertisement
SoftBank ready to let go of Sprint control
In fact, Reuters earlier reported that Sprint's parent company, SoftBank, is willing to settle for a minority stake in the entity that would emerge from the combination of Sprint and T-Mobile.
But if recent comments by T-Mobile management are anything to go by, the nation's number three carrier is not excited about revisiting merger talks with Sprint. According to T-Mobile's CFO, Braxton Carter, they would rather seek a deal with a cable company than pursue a merger with Sprint. Such sentiments, coming at a time when Sprint has struggled to grow its revenues, seem to show it as being isolated in its industry because chances of Sprint winning a merger approval with a rival outside T-Mobile look remote.
Competing for a buyer
Like T-Mobile, Sprint could try its luck outside its primary market to court a cable company like Comcast (CMCSA). But the problem is that if it comes to competing with T-Mobile for a cable buyer, Sprint, with its struggles to grow subscribers in a maturing market, seems to stand at a disadvantaged position.