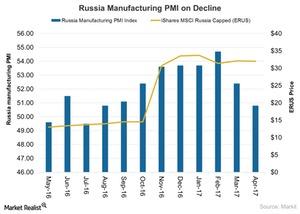 Is Russia's Manufacturing Sector Losing Momentum?
Slow growth in manufacturing activity
Russia's manufacturing activity improved at a slower pace in April 2017, primarily due to weaker demand. Growth in output and new orders slowed to eight-month lows, and business sentiment in the sector remained less optimistic in April.
Business confidence in Russia moved up to -1 in April, however, from -2 in March 2017. Economic sanctions by the western world (SPY) (VGK) still seem to be having an impact on the overall confidence in the Russian market (RSX).
Article continues below advertisement
Russia's manufacturing PMI index
The Markit Russia Manufacturing PMI (purchasing managers' index) dropped to 50.8 in April, down from 52.4 in March 2017. This figure points to the weakest expansion in Russia's manufacturing sector since August 2016.
Output and new orders both slowed to eight-month lows due to lower business confidence. The April PMI figure was also the lowest in the last nine-month period of positive readings. The decline in PMI reflects the slower growth of output and new orders and stronger job cuts by manufacturers.
New export orders on a decline
In April, Russia's new export orders contracted for the 44th consecutive month, and employment fell the most since March 2016. Work backlogs declined for the first time in seven months, and inflationary pressures remained relatively weak. Input prices climbed in April at a modest pace, primarily due to limited supply and higher commodity prices. The manufacturing PMI in Russia has averaged 50.41 from 2011 to 2017.
According to Markit economists, Russia's industrial production is expected to rise 1.7% in 2017, but weak growth was reported in March, reaching only 0.8% on a YoY (year-over-year) basis.
Manufacturing growth in Russia is likely to depend on the overall industry growth in 2017. Recently, the IMF (International Monetary Fund) improved its forecast for Russia's GDP growth from 1.1% to 1.4% for 2017.
Investment impact
The decline in Russian manufacturing is expected to impact Russia-focused ETFs. Specifically, the iShares MSCI Russia Capped ETF (ERUS) has underperformed the Emerging Market Index (EEM), with gains of about 4% in 1Q17. The VanEck Vectors Russia ETF (RSX) and the iShares MSCI Russia Capped ETF, (ERUS) have gained about 2% and 4%, respectively, over the past month (as of May 8). Some of the major holdings of these two ETFs include Mechel OAO (MTL), Mobile TeleSystems PJSC (MBT), Gazprom (OGZPY), and LUKOIL (LUKOY).
In the next and final part of this series, we'll look at Mexico's manufacturing activity.