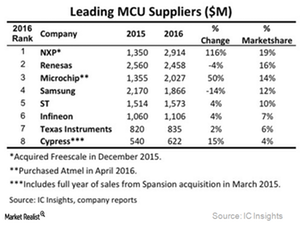 How Would NXP's Acquisition Benefit Qualcomm?
By Puja Tayal

Updated
NXP's acquisition to boost Qualcomm's chipset business
Qualcomm (QCOM) is the only fabless chip giant to make it onto IC Insight's list of top ten semiconductor companies. The company's licensing business has been facing turbulence, with several legal and regulatory cases coming up all at once. However, things are improving for its chipset business.
The company is preparing for its biggest acquisition yet of NXP Semiconductors (NXPI) for $38 billion excluding debt. This move will change Qualcomm's business model from fabless to IDM (integrated device manufacturer) and mark its entry into the highly competitive MCU (microcontroller) market.
Article continues below advertisement
How is the merger progressing?
Qualcomm is currently in the process of securing the necessary regulatory approvals from various countries' regulators for the NXP merger. So far, it's secured the approval of US regulators, and it's filed for clearances in China, Russia, and the European Union.
Qualcomm has also extended a tender offer to NXP shareholders to sell their shares to it by May 31, 2017. On May 1, 2017, Qualcomm had validly tendered 14.9% of NXP's outstanding common shares. The company has to validly tender 80% of NXP's outstanding shares to complete the tender.
In 2H17, Qualcomm will raise new debt to the tune of $10 billion–$12 billion to fund the acquisition.
Qualcomm's entry into the microcontroller space
This acquisition will not only mark Qualcomm's entry in the MCU market, it will also make it a leader in the space. Many analysts are concerned about the merger, as Qualcomm has never manufactured nor sold an MCU.
However, IC Insights' senior market research analyst, Rob Lineback, told EE Times that Qualcomm would easily adjust to the MCU market because NXP's MCUs are based on ARM architecture, and even Qualcomm uses ARM designs for its processors. Although MCUs and processors are two separate businesses, ARM is the common ground for both companies.
Qualcomm to face intense competition in the MCU market
The competition is very close in the MCU space, with Renesas Electronics, Microchip (MCHP), and Samsung (SSNLF) all vying for market share. Any new acquisitions by MCU players could make it tough for Qualcomm to retain the top position in this market.
Next, let's see how the merger could impact the combined company's earnings.