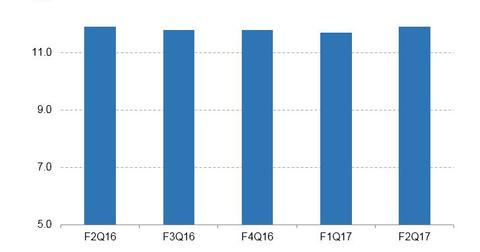 How Will Qualcomm's Acquisition of NXP Change Its Standing?
By Ruchi Gupta

Updated
Acquisition to consume $47 billion
Qualcomm (QCOM) can now proceed with its acquisition of fellow semiconductor company NXP Semiconductors (NXPI), as US (SPY) antitrust regulators have recently cleared the deal.
Qualcomm proposed the acquisition of NXP Semiconductors for $47.0 billion, and it intends to fund a portion of this transaction via debt. George Davis, Qualcomm's chief financial officer, estimated on the company's fiscal 2Q17 earnings call that the acquisition debt would be in the range of $10 billion–$12 billion.
Article continues below advertisement
A highly leveraged balance sheet
Considering that Qualcomm exited the March quarter, which is its fiscal 2Q17, with total debt of more than $11.9 billion, adding another $10 billion means the acquisition of NXP Semiconductors will leave Qualcomm with a highly-leveraged balance sheet. The above chart depicts Qualcomm's total debt in the last five quarters.
So why is Qualcomm making this acquisition despite the consequences on its debt position?
A stronger Qualcomm in the making
Qualcomm sees itself emerging stronger in the semiconductor space after it acquires NXP Semiconductors, which it hopes will more than compensate for the massive hit it's taking to fund the deal. CEO Steve Mollenkopf sees Qualcomm leading the 5G (fifth-generation) systems space with NXP on board.
Verizon (VZ) and AT&T (T) are among the carriers upgrading their networks to 5G technology, and such moves will necessitate mobile device upgrades. Qualcomm is a leading vendor and licenser of the wireless technology used in Smartphones.
Mollenkopf also expects NXP Semiconductors to help Qualcomm be in a better position to take advantage of emerging technology trends such as IoT (Internet of Things). Tens of billions of devices are expected to come online for the first time in the next few years, and many of them will require modem chips for wireless connections, expanding the market for Qualcomm's technology.