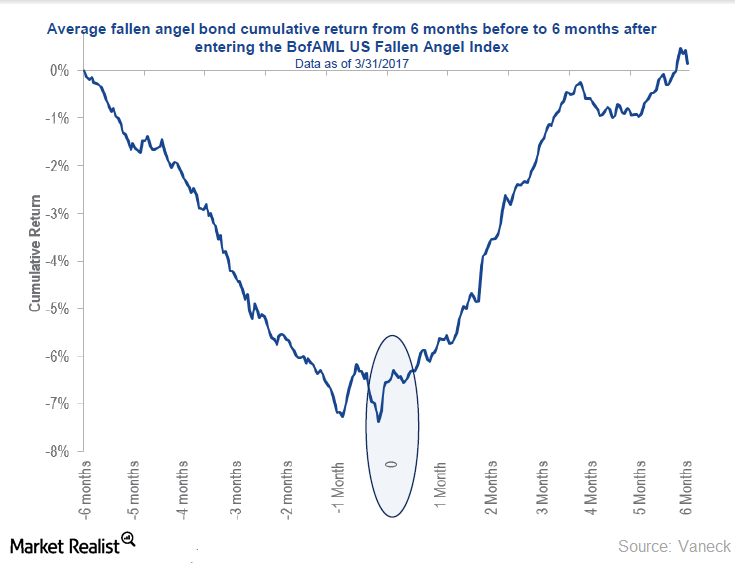 How Are Fallen Angel Bond Sectors Looking Now?
By VanEck

May. 18 2017, Updated 1:05 p.m. ET
VanEck 
How the fallen angel sector exposure has made a difference
The volume of fallen angel bonds in the market is increased primarily by deteriorating fundamentals of individual investment-grade bond issuers and by economic events that have weakened entire industry sectors (as seen in early 2016 in the energy sector with the aftermath of the 2014 oil price collapse). While negative events can help to broaden the fallen angel universe, they also present potential opportunities for investors to pick up discounted credits. By adopting a passive fallen angel index approach, as offered by ANGL, investors are following a contrarian investment allocation by effectively buying into the market while others are selling out. While not always the case, overselling pressure on investment grade bonds prior to being downgraded to high yield status has helped uncover value, on average, in the fallen angel high yield subset.
Article continues below advertisement
Past cycles of increased fallen angel volume have also resulted in differentiated sector allocations over the years that have meaningfully contributed to returns. Sector allocations, as of the end of April 2017, show fallen angels were overweight energy and basic industry by 10% and 14%, respectively. Similar to calendar year 2016, when commodities prices rebounded from February lows, the energy and basic industry sectors were among the largest overweights that have contributed to outperformance this year
It should also be noted that sector differences versus the broad high-yield bond market have been shown to help offset some of the negative impact of rising interest rates. Since the inception of the H0FA Index, fallen angels have outperformed broad high yield bonds four out of the last five calendar years when interest rates have risen 1% or more.[6.Source: FactSet. Based on the Federal Reserve's federal funds rates or 5-year U.S. Treasury rate rising approximately one percent or more since H0FA's inception on December 31, 2003.] This is significant, as fallen angels, which currently average about a 6.4 interest rate duration, have averaged higher interest rate sensitivity than the broad high-yield bond market, which currently average an approximate 4.0 duration.[7.Duration is a measure of the sensitivity of the price of a fixed-income investment to a change in interest rates.]
Market Realist
Fallen angel bond methodology and constituents
The fallen angel bond (ANGL) investing methodology thrives on the downward pricing pressure caused by a downgrade in credit. The idea is to reap gains associated with an upgrade in the future. An upgrade, in turn, leads to a narrower spread, which leads to an appreciation in bond prices.
The VanEck Vectors Fallen Angel High Yield Bond ETF (ANGL) tracks the BofA Merrill Lynch US Fallen Angel High Yield Index (HoFA).
Fallen angel high-yield bonds have an exposure of 86% in industrials, (XLI) (IYT), followed by ~12% in financial (XLF) (VFH). Basic industry and energy (XLE) (VDE) form a major chunk of industrials.
ANGL's top ten holdings include:
Freeport-McMoRan (FCX)
ArcelorMittal SA (MT)
Alcoa (AA)
Sprint Capital (S)
Telecom Italia Capital SA (TI)
Dell EMC
Cenovus Energy (CVE)
Teck Resources Limited (TECK)
Transocean (RIG)
Anglo American Capital
Notably, the current rally in fallen angel bonds is being driven by the industrials and energy sectors in the wake of the recovery among commodity markets.
Fallen angel bond sectors
Meanwhile, S&P 500 industrials have beaten the S&P 500 (SPY) (SPX-INDEX), with one-year annualized returns of 20.2%. But the cyclical industrial sector, which has the highest correlation with the S&P 500, is very sensitive to overall economic conditions.
The energy sector has returned 4.1% in the same time span and has been the only sector to report a -10.1% return on a YTD (year-to-date) basis. The sector was hammered by the oil slump of 2014, which ultimately led to a production cut agreement between OPEC (Organization of the Petroleum Exporting Countries) countries and non-OPEC countries.
At the same time, the revival of US shale has played a major role in the slump in oil prices observed in May 2017. If the US continues with its indiscriminate drilling, it will likely spell doom by oversupply for the industry.
Now, fallen angels appear to be beaten by high-yield bonds in terms of interest rate duration. Remember, the lower the interest duration, the better. A fallen angel bond's price will likely fall 6.4% for every 1% increase in the interest rate, and vice-versa.
However, the difference in sector allocations between fallen angel bonds and high-yield bonds have helped the former outperform the latter.