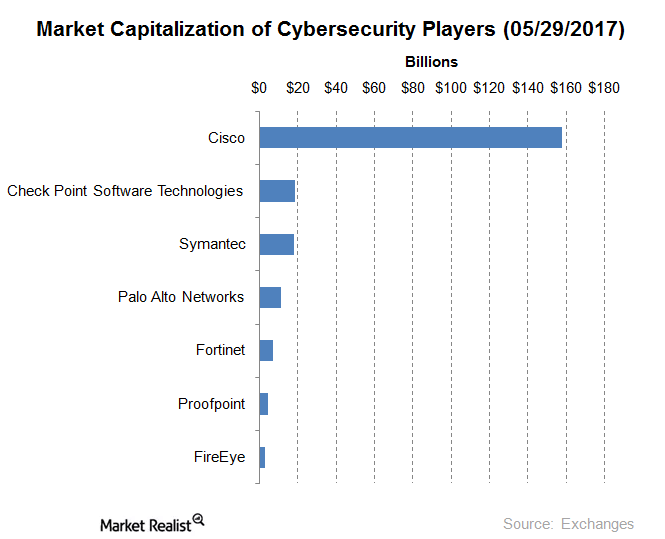 Cisco's Value Proposition in the Cybersecurity Space
Cisco's scale in the cybersecurity space
So far in this series, we've looked at the various acquisitions Cisco has announced and completed in 2017. We discussed how these acquisitions could boost Cisco's (CSCO) top-line growth as well as its prospects in the rapidly growing cybersecurity space. In this part, we'll look at Cisco's value proposition among select US cybersecurity companies.
On May 29, 2017, Cisco Systems (CSCO) was the largest global player by market capitalization in the cybersecurity space. Symantec (SYMC), FireEye (FEYE), Barracuda (CUDA), Palo Alto Networks (PANW), and Fortinet (FTNT) are some other prominent players in the cybersecurity space.

Article continues below advertisement
Renewed US focus on cybersecurity bodes well for Cisco
The recent WannaCry cyberattack made companies around the world analyze and improve their IT security practices. Cisco Systems, a leader in the networking space as well as a prominent player in the cybersecurity space, could benefit from the attention focused on this rapidly growing space.
Cisco's recent fiscal 3Q17 results exceeded analysts' expectations. Cisco's chief financial officer, Kelly Kramer, said, "Q3 was a solid quarter and we executed well. We're focused on driving operational efficiencies and profitability, enabling us to make the strategic investments to drive long term shareholder value."
Recurring revenues made up 31% of Cisco's total fiscal 3Q17 revenues compared to 29% in fiscal 3Q16. Cisco has taken several growth initiatives to move toward high-growth areas like IoT, security, data centers, and the cloud while managing its switching and routing operations.
Cisco's existing leadership position in the networking sector and its renewed focus on growth areas could provide a boost to Cisco stock.