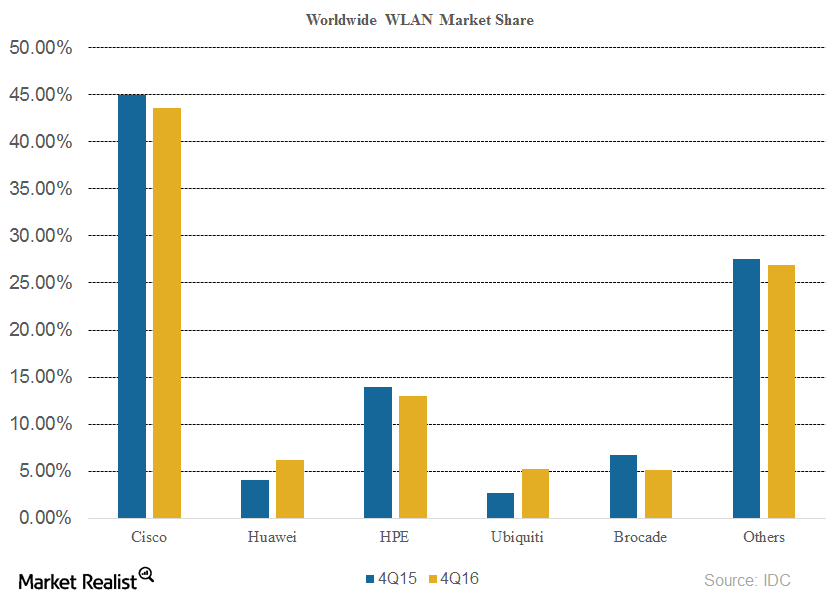 Can HPE Improve Market Share in the WLAN Segment?
By Adam Rogers

May. 15 2017, Updated 10:37 a.m. ET
WLAN market was flat YoY in 4Q16
According to market research firm IDC, the overall consumer and enterprise wireless local area network (or WLAN) fell 0.1% YoY (year-over-year) in 4Q16. Revenue, however, rose 3.1% YoY in 2016 to $2.4 billion. The Enterprise segment rose 3.1% YoY to $1.4 billion in 4Q16 and 7.2% YoY to $5.4 billion in 2016.
IDC stated, "While growth slowed in 4Q16, a strong demand for network refreshes worldwide coupled with digital transformation initiatives carried the market to stronger growth than the 4.2% seen in 2015."
Although the worldwide WLAN market contracted marginally in 4Q16, IDC believes the slowdown to be temporary. The key drivers for growth in the WLAN segment include digital transformation, demand from emerging markets (EEM), and the expected exponential growth in the IoT (Internet of Things) space.
The Asia-Pacific region saw the strongest Enterprise WLAN growth as revenue rose 22.7% YoY in 4Q16 and 21.7% YoY in 2016. While China led growth in 4Q16 with a YoY rise of 41.1%, Japan also experienced a rise of 20.2% in revenue.
Article continues below advertisement
Major players in the WLAN segment
Hewlett Packard Enterprise (HPE) is a major player in this market with a share of 13.5% in 4Q16 as compared to 14.3% in 3Q16. Cisco Systems' (CSCO) WLAN revenue had fallen 0.2% YoY, and its market share was 43.6% as compared to 43.7% in 3Q16 and 45% in 4Q15.
Brocade-Ruckus (RKUS), Ubiquiti, and Huawei are the other major players in the WLAN market with a share of 5.1%, 6.2%, and 5.2%, respectively, at the end of 4Q16. Brocade's revenue fell 21% YoY, Huawei's revenue rose 55.3%, while Ubiquiti's revenue rose 97% YoY in 4Q16.