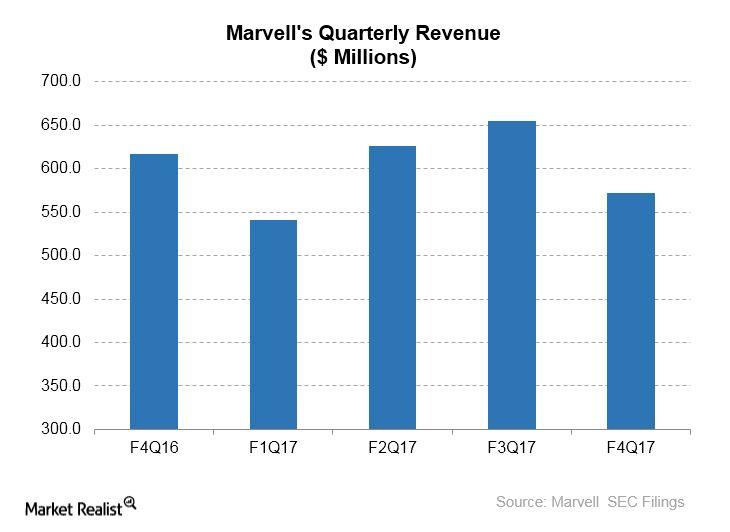 Are Dividends at Marvell Safe?
Shareholder returns
Increasing capital returns to shareholders is one of Marvell's (MRVL) management's main priorities. The company returned $155 million to shareholders in fiscal 4Q17. Of this amount, $30 million was in the form of dividends, and $125 million was in the form of buybacks.
The two other priorities management is pursuing, as discussed on Marvell's Investor Day, are driving revenue growth and driving operational efficiencies. If these other priorities succeed, Marvell should be in a position to increase shareholder returns as promised or at least sustain its dividends, as it would have more free cash.
Article continues below advertisement
Growing revenue while keeping costs low
The safety of dividends at Marvell is tied to the company's ability to grow revenue and save on costs. Is anything happening on those fronts? Marvell is a turnaround story, and its management recently said that it's ahead of its turnaround plan, an exercise that's expected to be completed within the current fiscal year.
As part of its restructuring process, Marvell is shifting to high-growth, high-margin markets such as the data center and cloud storage spaces while reducing its exposure to the Smartphone market, where margins and growth opportunities are low.
In an indication that Marvell is moving ahead of schedule with its restructuring efforts, the company is expecting a gross margin of 59% for the current quarter (fiscal 1Q18). It had initially expected to reach such a margin in fiscal 2H18.
Marvell has also given strong guidance for its current quarter. It expects EPS (earning per share) of $0.21 on revenue of $570 million. Consensus estimates, on the other hand, call for EPS of $0.17 on revenue of $545 million. The above chart shows how Marvell's top line has trended in the last five quarters.
Strategic acquisitions
Analyst Christopher Rolland of Susquehanna Financial Group thinks that Marvell could use its free cash for the acquisition of strategic assets such as Lattice Semiconductor (LSCC), Microsemi (MSCC), MaxLinear (MXL), and Cypress Semiconductor (CY). These assets should add capacity and be accretive to Marvell's earnings.