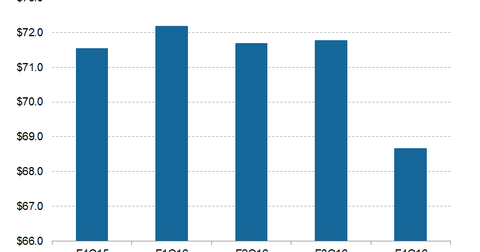 Analyzing Trends in Sprint's Average Billing per User
By Ambrish Shah

Updated
Sprint's postpaid phone ABPU
In this part of the series, we'll look at Sprint's (S) postpaid phone ABPU (average billing per user). Sprint's postpaid phone ABPU fell ~4.0% YoY (year-over-year) from $71.53 in fiscal 4Q15 to $68.66 in fiscal 4Q16.
According to Sprint, the main reason for this YoY fall was lower insurance revenue resulting from a change in the company's device insurance program. Normalizing for this change, the company's postpaid phone ABPU was relatively flat, which had a ~$2.50 dilutive effect during the quarter.
Article continues below advertisement
ABPU encompasses service revenues and installment payments made by postpaid customers. These installment billings are categorized as equipment revenue. Installment billings and service revenue provide stable revenue sources for major wireless carriers such as T-Mobile (TMUS), Sprint, Verizon (VZ), and AT&T (T).
Sprint's postpaid ARPU
Now we'll look at Sprint's postpaid ARPU (average revenue per user). ARPU represents the unit service revenues of wireless carriers such as Sprint, Verizon, AT&T, and T-Mobile. In fiscal 4Q16, Sprint's postpaid ARPU fell ~8.4% YoY to reach $47.34, driven by an accounting change from a new vendor agreement.
Sprint's postpaid ARPU has been falling sequentially in the last few quarters, negatively affecting Sprint's postpaid service revenue. According to Sprint, its postpaid ARPU trend should improve in 2017 as its 50% off promotions roll off. Its aim is to migrate these subscribers to its more accretive one-rate plan, Unlimited Freedom.