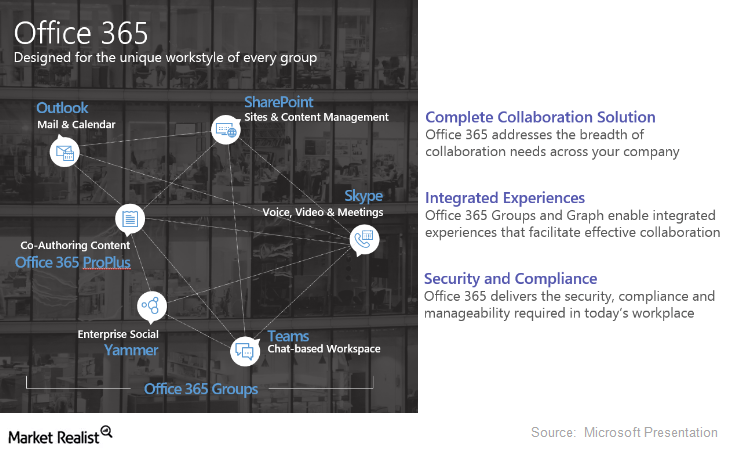 Will Microsoft or Google Dominate the Enterprise Collaboration Space?
Enterprise collaboration space
Previously in this series, we discussed the differences between Microsoft's (MSFT) Office 365 and Google's (GOOG) G Suite. Raul Castanon-Martinez, senior analyst with 451 Research, stated, "Companies could provide Teams or [Hangouts] but workers could still choose to use Slack, for example."
Castanon-Martinez added, "It might seem counterintuitive but an open platform is in the best interest of Google and Microsoft, and they will benefit from developing an ecosystem that will open the doors to more applications that can add value to their own set of tools."
As a result, this market may not be dominated by a single player or even a handful of players.
Article continues below advertisement
Key challenges faced by Microsoft and Google
Commenting on the challenges faced by Microsoft and Google, Castanon-Martinez noted, "Google is in the process of proving itself in the enterprise space. They have a solid product in G Suite and are making strides with large deployments, but still need to work on developing a partner network and building their image as an enterprise software vendor."
Castanon-Martinez noted that Microsoft's issue is that its various collaboration and productivity tools are "confusing and redundant." He added that Microsoft Teams "could be an opportunity to consolidate and streamline these tools under a single unified interface."
Leveraging its presence in the enterprise software space, Microsoft chose to integrate collaboration apps into its productivity suites to make them more appealing to organizations that are content with the siloed approach. Enterprises that follow the siloed approach prefer not to share information within their own groups or departments.
Google adopted the same approach. Slack and Cisco Systems (CSCO), on the other hand, offer a single offering or less-extensive offerings.