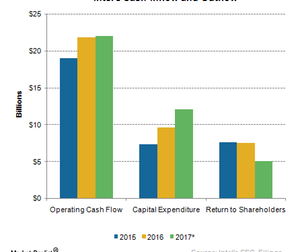 Will High Leverage Impact Intel's Financial Flexibility?
By Puja Tayal

Updated
Intel's investments
Earlier in the series, we learned that Intel (INTC) had adopted an innovative chip design approach that would help it to improve a chip's efficiency without spending a large amount on production.
Amid product innovations happening at different levels, the company announced its acquisition of Israel-based (EIS) Mobileye (MBLY) in an all-cash deal of $15.3 billion in March 2017. It also spun off its Security division for $3.1 billion in April 2017. Let's see how this business transition is impacting the company's balance sheet.
Article continues below advertisement
Cash flows
In 2016, Intel's operating cash flow rose 14.7% YoY (year-over-year) to $21.8 billion on an operating profit of $16.5 billion. The company spent $9.6 billion on capital expenditure, resulting in an FCF (free cash flow) of $12.2 billion. The company is expected to earn operating cash flow of ~$22 billion on an estimated operating income of $17.1 billion in 2017. It will spend $12 billion of this cash on capital, resulting in an FCF of $10 billion.
Return to shareholders
In 2016, Intel returned $7.5 billion to its shareholders, of which $4.9 billion was returned through dividends and $2.6 billion was returned through share buybacks. The company's first priority for its FCF is to reinvest in its business. If there are no good growth opportunities, the company will use its FCF to pay dividends and buy back shares.
However, according to new information, Intel has decided to use its offshore cash to fund the acquisition of Mobileye. This could result in Intel's reducing its share buybacks as it accumulates cash to fund the acquisition. Similarly, Qualcomm (QCOM) has reduced its share buybacks to accumulate cash to fund its NXP Semiconductors (NXPI) acquisition.
Article continues below advertisement
Intel's leverage
At the end of 2016, Intel's cash reserves were $17.0 billion, compared to its long-term debt of $25.1 billion. Intel has decided to follow its debt maturity cycle and not repay its debt earlier. According to the cycle, $3.5 billion worth of its debt will mature in 2017, reducing its long-term debt to $21.6 billion. The company could use its $3.1 billion in cash proceeds from its spin-off of Intel Security to pay off its maturing debt.
Even with such high leverage, Intel has a Standard & Poor's credit rating of A+ because of its high cash flows. This strong credit rating indicates that the company has the capacity to take on more debt. Despite its high leverage, Intel has the financial flexibility to invest in long-term opportunities.
Next, we'll see what analysts think about Intel.