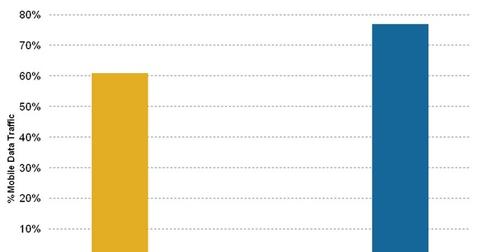 Why Comcast Expects Its Wireless Service to Succeed
By Shirley Pelts

Apr. 26 2017, Updated 11:35 a.m. ET
Comcast launches its wireless service
Earlier this month, Comcast (CMCSA) launched Xfinity Mobile, its wireless service. Comcast is offering two packages as a part of its wireless service.
Unlimited: As a part of this package, Comcast's customers can use unlimited mobile data for up to five lines with $65 per line. Comcast premium X1 customers will be able to use the unlimited mobile data package for $45 per line.
Comcast customers will also have the option to pay for data usage at a rate of $12 per GB (Gigabit) of mobile data.
As a part of this service, Comcast customers using Xfinity Mobile will also be able to watch live television programming, get access to on-demand content, and control their smart devices at home through the Xfinity Home app.
With the renewal of its 2011 MVNO (mobile virtual network operator) agreement with Verizon, the company believes it could generate more value for its shareholders. The company, with around 29 million customers, 16 million Wi-Fi hotspots, and its MVNO agreement with Verizon, could offer a very good value proposition to customers.
Article continues below advertisement
Comcast expects its wireless business to be positive in terms of its NPV (net present value) and for it to have a lower churn. The company is offering its wireless service in its product bundles to improve customer retention and provide more value to customers. Comcast also expects the launch of its wireless business to impact the 2017 OCF (operating cash flow) of its Corporate and Other segment by $200 million–$300 million.
The company's wireless business could impact its working capital due to the provision of handsets. The company intends to buy handsets and collect payment for the handsets from its wireless customers.