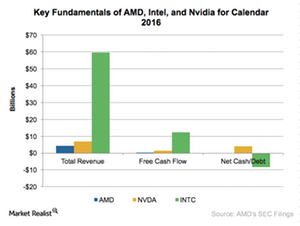 Why Canaccord Genuity Is Bullish on AMD
By Puja Tayal

Updated
Canaccord Genuity on AMD, INTC, and NVDA
Advanced Micro Devices (AMD) is launching a suite of products to obtain a share of the high-end PC, server, and GPU[1. graphics processing unit] markets. If the company succeeds in regaining even a modest share in all three markets, its earnings could grow significantly.
This growth opportunity has made Canaccord Genuity analyst Matthew Ramsay bullish about AMD. However, he is not as optimistic about Intel (INTC) and Nvidia (NVDA).
Article continues below advertisement
AMD
Compared with Intel's high-end CPUs,[2. central processing units] AMD's Ryzen 7 has performed well in productivity and memory-intensive benchmark tests. However, it underperformed in mid-tier 1080p gaming benchmark tests. AMD is working on this performance, as it recently introduced balanced power software that improved Ryzen's gaming performance on Microsoft's (MSFT) Windows 10 by 20%.
Ramsay stated that AMD's Ryzen is not expected to match Intel's CPU performance. Ryzen CPU's key selling points are its performance per watt and mature software optimizations, which could drive its sales in 2017. This would give a head start to Naples server CPU, which would ramp in 2H17 and 2018.
Intel
Intel (INTC) has strong cash flows, but it is investing a major portion of its cash reserves in growth opportunities. It acquired Altera in 2015 and Mobileye (MBLY) in 2017. INTC is building a memory plant in China (FXI) and is increasing its research and development spending in automotive, IoT (Internet of Things), and 5G. Intel expects these investments to bear fruit in the long term.
Ramsay supports Intel's decision to invest in growth. He noted that "turning a battleship like Intel takes time," which makes the stock less attractive in the short term. Intel shares may hover around a particular range and not grow beyond that until the new investments start yielding results.
While Intel undergoes a multiyear transition, rival stocks would generate more attractive returns.
Nvidia 
Fiscal 2017 was a turnaround year for Nvidia, as its data center revenues grew 131% year-over-year, driven by increasing adoption of GPUs for deep learning applications in the cloud.
Ramsay stated that GPU growth would not continue for a long time, as other companies such as Intel and AMD enter this market. He expects Nvidia's ~80% share in the server accelerator market to gradually moderate to 40% over time. He expects GPU attach rates in servers to increase to 20% over the next five years, creating an opportunity of more than $2.5 billion for Nvidia.
However, this opportunity would be offset by declines in gaming GPUs. Ramsay believes that Nvidia could lose its premium pricing of gaming GPUs in the long term as AMD enters the high-end market with its Vega GPUs at competitive prices.
In the final part of this series, we'll look at some of AMD's key ratios.