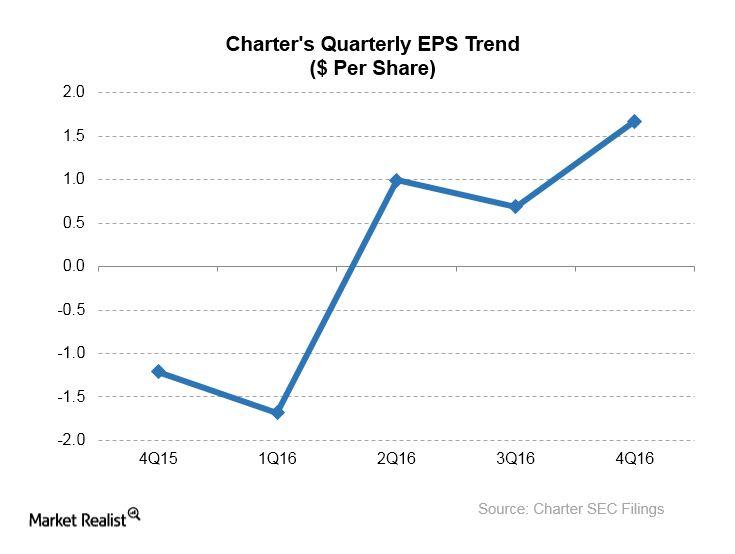 Verizon, CHTR Face New York Lawsuits over Internet Speeds
By Ruchi Gupta

Apr. 19 2017, Published 3:17 p.m. ET
Slow Internet speeds
Verizon (VZ) and Charter Communications (CHTR) are facing separate lawsuits in New York City over claims of failing to meet their part of the bargain in providing Internet services to the city's residents. The New York Attorney General, Eric Schneiderman, announced on February 1, 2017, that he would take Charter Communications to court. Schneiderman argued that the company has been providing New York residents lower Internet speeds than it promised.
The lawsuit alleges that since 2012, Spectrum, a subsidiary of Charter Communications, has offered Internet speeds that were 80% lower than the speeds it advertised. Charter Communications acquired Time Warner Cable in 2016 and rebranded it as Spectrum.
Article continues below advertisement
Risk to CHTR's financials
Charter Communications (CHTR) has protested Schneiderman's lawsuit, arguing that the matters raised in the lawsuit occurred before the company acquired Time Warner. If Schneiderman successfully pushes the lawsuit through, Charter Communications could be slapped with fines that could reduce its cash reserves or dent its bottom line. 
Charter Communications posted EPS (earnings per share) profit of $1.67 in 4Q16, compared to its 4Q15 EPS loss of $1.21. The chart above shows the company's quarterly EPS trend over the last five quarters.
Fios contract turns sour for Verizon
Verizon (VZ) is being accused of failing to connect about a million New York City residents to high-speed Internet under its Fios brand. Schneiderman claims that the company signed a contract to bring Fios broadband to 3.1 million residents, but that it had provided the service to only 2.2 million residents. The New York attorney general sees that as a breach of contract. 
Verizon denies the accusations, saying instead that it had fully delivered its part of the deal and that the city was misinterpreting the contract. The lawsuit also exposes Verizon to potential losses in fines or additional expenses.
Verizon is already trying to manage its cash prudently as it seeks to enhance its networks to meet growing traffic demand and stay ahead of competitors AT&T (T), T-Mobile (TMUS), and Sprint (S).