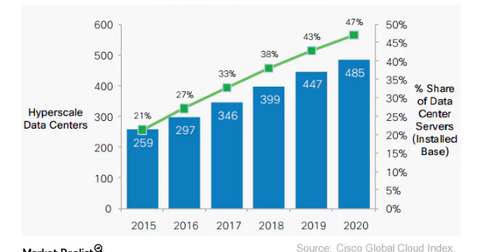 How Are Peers Competing with Microsoft?
By Anne Shields

Updated
Tech players compete to increase data centre operations
Earlier in this series, we learned about Amazon's (AMZN), Microsoft's (MSFT), IBM's (IBM) and Google's (GOOG) expanding data centre footprint. According to a research report by Synergy Research Group, "Google and Oracle also have a notably broad data center presence." Amazon had first mover advantage in the cloud when it launched AWS (Amazon Web Services) in 2006. Microsoft joined the cloud arena a little later, in 2011.
Both Microsoft and IBM have a strong presence in enterprise IT (information technology), and as a result, boast huge enterprise client databases. Google, on the other hand, launched its cloud offering in late 2011, making it the youngest among its peers to join the cloud bandwagon.
Article continues below advertisement
According to a study by Cisco Systems (CSCO), IDC Research, and Gartner, by 2018, ~78% of workloads are likely to be processed by cloud data centers, whereas traditional data centers will process the remaining 22%. This forecast explains why players are aggressively competing for global data center expansion and how investments in them enhance competitiveness in the cloud space.

Data centers' proximity to customers ensures faster response
Amazon and peers are competing for global data center growth to facilitate data storage and computing closer to customers. The larger the distance, the longer the delay between issuing a direction and an outcome. Establishing data center operations closer to customers will speed up performance.
Moreover, many European countries have strict sovereignty laws ensuring that citizens' data stays within their native country. As a result, these players are forced to build data centers within these countries.