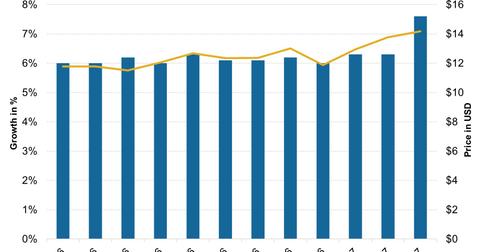 China's Manufacturing Sector and Rising Industrial Production in 2017
By Mary Sadler

Apr. 19 2017, Updated 2:05 p.m. ET
Economic activity increases in 2017
The improvement in industrial production in 1Q17 seems to have provided a boost to corporate profits in China. It has also improved the country's tax revenues with the rise in prices. The manufacturing sector picked up momentum recently with increased economic activity in the first few months of 2017.
China's manufacturing PMI[1. purchasing managers' index] rose to 51.8 in March 2017, compared to 51.6 in February 2017. This signals the stabilization of China's economy in 2017. The chart below shows the country's industrial production figures.
Article continues below advertisement
Increased industrial production in March 2017
Industrial output in China grew 7.6% on a year-over-year basis in March 2017, compared to a 6.3% rise in January 2017. It recorded its fastest growth since December 2014, as output expanded at a faster pace in March 2017. The major changes in the country's economy follow:
The manufacturing sector grew 8% in March 2017, an increase of 9% from February 2017.
Electricity, gas, and water production rose 9.7%, an increase from 8.4% in February.
Mining production fell 0.8% from -3.6% in February 2017.
China's industrial production growth is crucial, as it accounts for more than 40% of its GDP. China (FXI) is also the largest exporter and the second-largest importer, driving market performance around the globe (VEU) (ACWI).
Slowing growth?
However, as the gains in industrial prices moderated recently, China's import growth could slow in 2Q17. In our view, its fiscal revenue growth could also slow in 2Q17.
Industrial prices have been on a downtrend in the last few months. China's producer price index (or PPI), which measures the cost of goods at the production phase, increased 7.6% year-over-year in March 2017, compared to the 7.8% increase reported in February 2017.
Investors interested in industrial sector ETFs can watch the Global X China Industrials ETF (CHII), which tracks the Solactive China Industrials Index. This fund invests in industries engaged in building and construction, which comprised 34.4% of the fund in March 2017. CHII held 31.6% of its portfolio in machinery and equipment in March. CHII gained ~20% in 1Q17, and some of its top holdings include Sunny Optical Technology, China Communications Construction Co., Anhui Conch Cement, and China Railway Group.
In the next article, we'll look at retail sales and their impact on China.