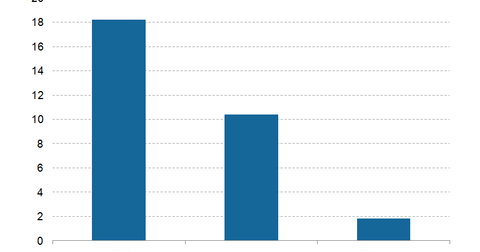 AT&T's 5G Segment: Progress Continues
By Ambrish Shah

Apr. 20 2017, Updated 6:38 a.m. ET
AT&T on 5G
AT&T's (T) progress in the 5G space continues. AT&T is enthusiastic about the future of 5G technology, which should improve data speeds. It should also improve capacity and latency by aggregating spectrum into larger blocks and taking advantage of new antenna technology.
AT&T's acquisition of Straight Path Communications and FiberTower adds significant high-frequency spectrum holdings, positioning AT&T with nationwide coverage well suited for 5G deployments. According to a FierceWireless report on April 11, 2017, "Straight Path holds an average of 620 MHz[1.megahertz] in the top 30 U.S. markets, covers the entire nation with 39 GHz[2.gigahertz] spectrum and it has retained all its 28 GHz spectrum licenses. Straight Path had long been expected to sell its licenses to a wireless or cable network operator."
Article continues below advertisement
AT&T's management has indicated that, with AT&T's broad fiber footprint and early trials, the carrier is well positioned for 5G. Using millimeter-wave technology, the company conducted its first 5G business customer trial in Austin last fall and witnessed upload and download speeds of 1 Gbps[3.gigabits per second]. AT&T plans to conduct 5G trials with Qualcomm (QCOM) and Ericsson (ERIC) in 2017, and these trials will be the first based on the 5G new radio specification being developed by 3GPP.
AT&T is an aggressive player in the 5G market
AT&T has been an aggressive player in the 5G market. In the past, it has tried to outbid rivals for spectrum. AT&T was the highest bidder during the AWS[4.Advanced Wireless Services]-3 spectrum auctions in early 2015 and purchased spectrum worth $18.2 billion. The AWS-3 spectrum auction was the first major auction conducted by the FCC (Federal Communications Commission) since 2008. As shown in the above graph, Verizon (VZ) and T-Mobile (TMUS) also participated in that auction, making winning bids of $10.4 billion and $1.8 billion, respectively.
AT&T's 4G LTE footprint covers more than 400 million people in North America. This large coverage should help AT&T become an important player in the 5G market.