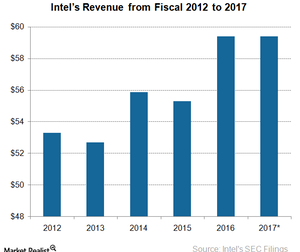 How Intel's Business Transformation Could Impact 2017 Revenue
By Puja Tayal

Updated
Intel's revenue trends
In the first few parts of this series, we saw that Intel (INTC) is looking to transition from a chip-centric company to a data-centric company. Its research and development expenses and capital spending are increasing since its growth areas are requiring huge investments, and they're currently not big enough to replace its PC (personal computer) business.
That might slow down Intel's growth in the short and medium terms, but it presents strong growth opportunities in the long term.
Article continues below advertisement
Fiscal 2016 revenue trend
In fiscal 4Q16, Intel's revenue rose to an all-time high of $16.4 billion, representing a 10.0% YoY (year-over-year) growth. The revenue was driven by strong growth in its CCG (Client Computing Group), DCG (Data Center Group), IoT (Internet of Things), and memory groups.
Intel's fiscal 2016 revenue rose 7.0% YoY to a record high of $59.4 billion. About 3.0% of that growth came from the addition of Altera. Intel's DCG and IoT revenues reached record highs in fiscal 2016. However, the company expects its revenue growth to slow down in fiscal 2017 through 2019.
1Q17 revenue guidance
After reporting strong seasonal sales for gaming and other high-end PC systems, Intel expects its fiscal 1Q17 revenue to fall 9.8% sequentially. That will come as demand moves toward lower-end PCs, thereby reducing its ASP (average selling price). Data center sales are also expected to remain weak. That could be slightly offset by strong growth in the non-volatile memory and IoT markets.
Article continues below advertisement
Fiscal 2017 revenue guidance
Intel expects its fiscal 2017 sales to remain flat at $59.4 billion after including the Intel Security Group. However, if we remove the security business from estimates for 2016 and 2017 earnings, Intel's revenue would be expected in the low single digits in fiscal 2017.
The company could face strong competition from Advanced Micro Devices' (AMD) Ryzen desktop and server processors. However, that competition could be offset by strong growth in its mobile business, driven by modem orders from Apple (AAPL). Intel is looking to replace Qualcomm (QCOM) as the sole modem supplier for Apple iPhones by 2018. Intel could also benefit from the supply shortage of 3D (three-dimensional) NAND, which has increased its prices.
Three-year guidance
For the next three years, through 2019, Intel expects its revenue to rise in the low single digits, even though its growth segments are expected to rise in the double digits. That's due to the small size of its growth segments. On the other hand, revenue for its Client Computing Group is expected to fall to the low single digits over the next three years.
Next, let's see if Intel can maintain its high margins despite an increase in spending.