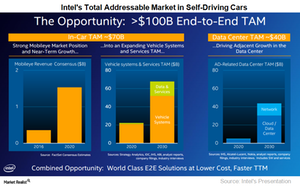 How Important Are Autonomous Cars to Companies Like Intel?
By Puja Tayal

Mar. 22 2017, Updated 9:05 a.m. ET
Semiconductor companies eye autonomous cars to boost future growth
In the previous part of this series, we saw that semiconductor companies are looking at autonomous cars as the next big opportunity to boost growth. Smartphone sales are slowing down, and PC (personal computer) sales are still falling.
According to Gartner, the semiconductor industry is in a transition. Over the next five years, traditional growth drivers such as PC and wireless could be in a slump. Industrial, storage, and automotive could emerge as new growth drivers. Gartner expects the automotive semiconductor market to grow at a CAGR (compound annual growth rate) of 7.0% and reach $42.4 billion by 2020.
Article continues below advertisement
Strong growth opportunities drive acquisitions in automotive market
The high growth prospect is encouraging automakers, suppliers, and technology companies to acquire autonomous car technologies. That's fueling valuations of self-driving start-ups. The latest example is Mobileye (MBLY), which secured a premium of 34.0% over the previous day's closing price before its proposed merger with Intel (INTC) was announced.
The merger deal between Qualcomm (QCOM) and NXP Semiconductors (NXPI) was the industry's biggest acquisition of all time. It was a $47.0 billion merger that could increase exposure to the automotive market. Other major deals include SoftBank's $32.0 billion acquisition of ARM Holdings and Samsung's (SSNLF) $8.0 billion acquisition of Harman. Both mergers were aimed at getting connected to cars.
Autonomous car market yet to develop 
Despite all the attention and activity around autonomous cars, the opportunity is still at a nascent stage. Automakers are still working with suppliers and technology companies to develop fully autonomous cars. Several companies might test their driverless cars in 2017. The first company to succeed in this technology would stand to gain a larger market share.
While automakers are aiming to release driverless cars by 2020, a full-fledged adoption may take another five years. Proper infrastructure and regulations still have to be put in place. Society will also have to accept the new technology. With the Mobileye acquisition, Intel (INTC) aims to expedite its plan to develop an end-to-end autonomous car solution.
Quantifying the autonomous car market
Goldman Sachs estimates that ADAS (advanced driver assistance systems) and the autonomous car market will grow from about $3.0 billion in 2015 to $96.0 billion in 2025 and $290.0 billion in 2035. However, Intel is looking to grow beyond ADAS and control the entire process. It wants to control the automotive electronics and in-car communications as well as the navigation, network, security, and data center.
Intel expects autonomous cars to create a total addressable market of $100.0 billion for it by 2030. Of that amount, $70.0 billion would be for in-car systems and $30.0 billion for the data center.