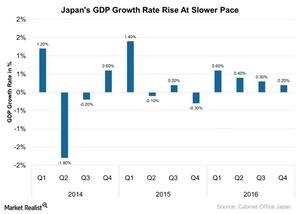 How the Deflationary Environment Impacts Japan's Economic Growth
Japan's economic growth increases at a slower pace
In 2012, Japan's newly elected administration initiated Abenomics, comprising bold monetary policy, flexible fiscal policy, and growth strategy to promote private investment. The Bank of Japan introduced a price stability target of a consumer price index (or CPI) inflation of 2% in 2013.
In April 2013, the Bank of Japan introduced a new policy initiative—Quantitative and Qualitative Monetary Easing (or QQE). QQE aims to change the deflationary mindset of consumers through achieving its price stability target of 2%. The quantitative easing policy also seeks to lower short-term and long-term real interest rates with massive bond purchases by the Bank of Japan. Let's look at the impact of monetary easing on Japan's GDP growth during the last few quarters.
Article continues below advertisement
Deflation versus economic growth
Despite persistent deflation, Japan's (EWJ) (JPMV) (DXJ) economy is growing at a slower pace, and its 3Q16 growth exceeded expectations as exports recovered. However, domestic activity seemed to remain under the spiral of deflation, subduing hopes for sustainable economic growth. The country's exports recovered even as Donald Trump's win in the US presidential election created uncertainty around the world.
The fourth quarter of 2016 showed continuous growth with an annualized rate of 1.7%. The economy saw annualized growth of 1.1% in 3Q16, beating the estimate of 0.9%.
The yen also strengthened against the US dollar for most of the year until August. In 4Q16, external demand, or exports minus imports, added ~0.2% to Japan's GDP. The improvement was due to a bounce in exports as compared to imports.
In its January 2017 economic update, the International Monetary Fund (or IMF) revised its growth projection for 2017 up to 0.9%, compared to its October 2016 economic update. The upward revision in growth is mainly due to strong performance during the second half of 2016.
Impact of the deflationary environment
The deflationary environment is particularly bad for business as it affects a company's bottom line. Companies need to reduce their prices, leading to low wages at the consumer level. From a broader economic perspective, lower demand leads to lower prices across assets like real estate and commodities, impacting corporate profits and stock prices.
Nippon Telegraph and Telephone (NTT), Fast Retailing (FRCOY), and Kyocera (KYO) are among the stocks that are highly weighted in the Nikkei Index and are vulnerable to deflationary pressures.
In the next part, we'll look at the fiscal policy measures and quantitative easing undertaken by the government of Japan.