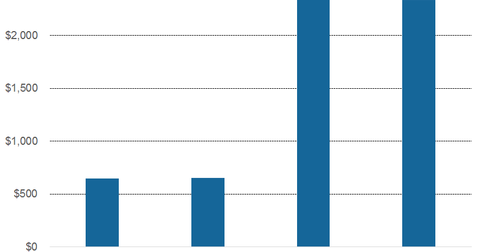 Can Juniper Networks' Routing Business Drive 2017 Revenue?
By Adam Rogers

Updated
PTX and MX products drive revenue
Juniper Networks' (JNPR) Routing segment has performed well, accounting for about 47.0% of the company's total revenue. Growth in Routing was driven by demand from Juniper's cloud vertical for its MX and PTX products.
Juniper's MX product series provides a Universal Edge platform and supports mobile, business, and residential services. Its PTX series is the "First supercore packet system in the industry, and delivers powerful capabilities based on innovative ExpressPlus silicon and a forwarding architecture that is focused on optimizing MPLS [multi-protocol label switching] and Ethernet."
Article continues below advertisement
Routing revenue rose in 4Q16
Juniper's Routing revenue rose 1.0% YoY (year-over-year) to $654.0 million in 4Q16 and was flat YoY in fiscal 2016 at $2.4 billion. Revenue from the MX product series rose quarter-over-quarter due to demand for new line cards.
Between fiscal 2011 and fiscal 2015, revenue for the Routing segment rose at a CAGR (compound annual growth rate) of 1.0%. Revenue in the segment has stagnated over the last few years, primarily due to a mature market. According to market research firm IDC (International Data Corporation), the overall router market rose 2.6% YoY in 4Q16.
According to IDC, Juniper Networks' (JNPR) combined Service Provider and Enterprise Router revenues rose 6.5% YoY in 4Q16. The company now has a 16.9% share in this space compared to 17.4% in 3Q16.
In 4Q16, Cisco's (CSCO) revenues fell 4.8% YoY in its Service Provider and Enterprise Router segment. Its market share in 3Q16 was 44.2%. It was 45.0% in 4Q15, falling to 42.2% in 4Q16.
China-based (FXI) Huawei's Enterprise and Service Provider revenues continued to rise in 4Q16, rising 16.2% YoY. It now accounts for 18.8% of the total router market. Hewlett Packard Enterprise (HPE) is another major player in the router space, with a 5.0% share in 4Q16.