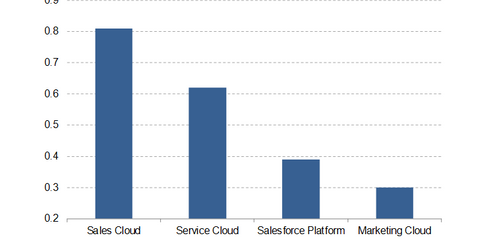 Are These Funds Plotting to Oust Salesforce CEO Marc Benioff?
By Ruchi Gupta

Updated
Activist funds take positions in Salesforce
Several hedge funds known for their activist approaches to reforming the management of the companies they target have recently disclosed their holdings in Salesforce (CRM). These funds are Corvex Management, Jana Partners, and Sachem.
With these activist funds invested in Salesforce, the company's founder and CEO, Marc Benioff, could be a target. That Salesforce has remained largely unprofitable under Benioff and the stock registered a downbeat performance in 2016. Some investors may feel that Benioff has done his part and needs to step down so a fresh face can steer the company through its next phase of growth.
Article continues below advertisement
Stock underperforms the S&P 500
Is Salesforce spending too much?
The funds could also be interested in pushing for greater financial control at Salesforce. The company has recently stepped up its startup acquisitions, which will likely drive up its costs and potentially prolong its path to profitability.
The company posted EPS (earnings per share) of -$0.07 in fiscal 4Q17. Adjusted for acquisition expenses and certain other items, it reported EPS of $0.28 in the quarter, up 47% compared to a year ago.
Can these funds force reforms on Salesforce?
If the above-mentioned funds aim to agitate for a management change at Salesforce, they don't seem to have enough numbers to push through a radical administration reform. Their combined stake makes up just 1.3% of Salesforce. Furthermore, Jana Partners raised hopes but failed to reform Twitter (TWTR) as some investors had expected when it disclosed its stake in the company.