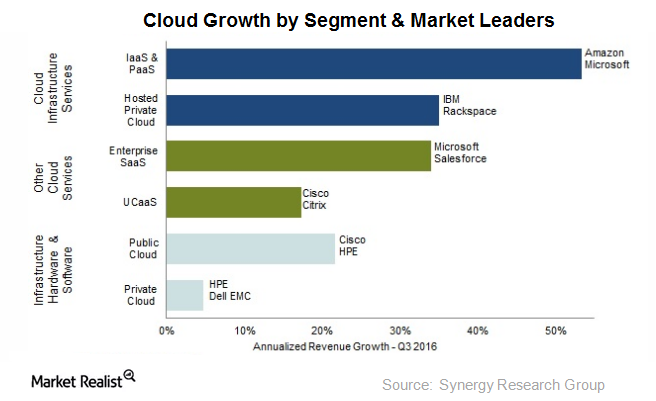 Why Salesforce Is Set to Grow in 2017
Salesforce's position
Earlier in this series, we discussed how growing cloud adoption and the United States' large market for the cloud will benefit Salesforce (CRM). According to Synergy Research Group founder and chief analyst Jeremy Duke, "we tagged 2015 as the year when cloud became mainstream and I'd say that 2016 is the year that cloud started to dominate many IT market segments." Let's see how Salesforce's CRM (customer relationship management) and SaaS (subscription-as-a-service) strength will pave the way for its growth in 2017.
Article continues below advertisement
Salesforce pioneered the SaaS model. Since its launch, Salesforce has developed an impressive mix of cloud-based offerings that help companies manage their business relationships in the customer lifecycle. Salesforce and Microsoft (MSFT) were positioned as prominent leaders in the enterprise SaaS space in 2016 by Synergy Research Group.
Although Salesforce lost its leadership position in the overall SaaS space to Microsoft in calendar 2Q16, Salesforce continues to dominate the CRM space. Salesforce rules the CRM space with a market share of 19.7%, followed by SAP (SAP), which has a 10.2% market share. Oracle (ORCL), Microsoft, and Adobe Systems (ADBE) were also among the top five players. CRM is the largest component of SaaS. Morgan Stanley (MS) analyst Keith Weiss believes that "there is no vendor with better exposure to SaaS-based front office applications than Salesforce.com."

SaaS dominance of cloud space continues
Although purchase priority will vary from company to company, CRM and ERP (enterprise resource planning), along with server and storage hardware, are expected to be the leading product categories, as stated by IDC Research. Oracle's (ORCL) dominance in ERP, which grew the most in the SaaS space, led to it registering the highest growth in the SaaS space in 2Q16.
IaaS (infrastructure-as-a-service) and PaaS (platform-as-a service) spending are expected to grow at a CAGR (compound annual growth rate) of 30.1% and 32.2%, respectively. However, it is SaaS that will continue to dominate the cloud computing space. It is expected to capture nearly two-thirds of public cloud spending in 2017 and approximately 60% in 2020.