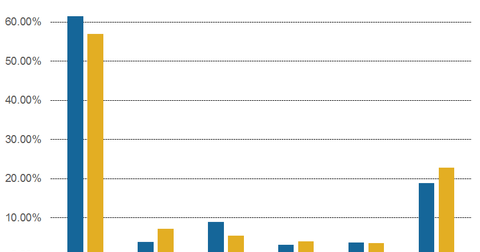 Where Does HPE Stand in the Ethernet Switch Market?
By Adam Rogers

Updated
Cisco leads the switching market
According to IDC, Cisco Systems' (CSCO) revenues fell 5.4% YoY (year-over-year) in the ethernet switching space in 3Q16. Its market share was 57% that quarter as compared to 56.8% in 2Q16 and 61.5% in 3Q15. Other major players in this market include Hewlett Packard Enterprise (HPE), Juniper Networks (JNPR), and China's (FXI) Huawei. The worldwide ethernet switching market grew 2% YoY to ~$6.3 billion at the end of 3Q16.
Article continues below advertisement
HPE's ethernet switching revenues fell 4.3% YoY in 3Q16. The company has a market share of 5.5% as compared to 6% in 1Q16. Huawei's revenues rose 91.6% YoY in 3Q16, whereas Juniper Networks' revenues rose 7.1% YoY in the switching business. Arista Networks' Ethernet switching revenue rose 31.5% YoY in 3Q16.
Huawei's Switching business revenue has been rising significantly over the last few quarters, and the firm is increasing market share as well.
HPE split from H3C
A research report from StreetInsider states that HPE announced the close of a transaction with an affiliate of the China-based (FXI) Tsinghua Holdings "to create New H3C Group, the leading Chinese provider of technology infrastructure" in 2016.
As per the agreement, Unisplendour, the affiliate, purchased a 51% stake in New H3C for $2.3 billion. This deal includes H3C Technologies as well as HPE's server, technology, and storage services businesses in China. HPE stated that it will return cash to shareholders through share repurchases.
The new H3C has a market share of 3.6% in the Ethernet switch market.