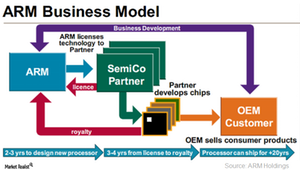 What's AMD after with Its Patent Lawsuits?
By Puja Tayal

Mar. 2 2017, Updated 10:36 a.m. ET
AMD eyes licensing revenue
In the previous part of the series, we discussed how Advanced Micro Devices (AMD) is looking to improve its profits by entering high-end markets and expanding its licensing business. AMD secured a net licensing gain of $31 million in fiscal 4Q16 from its server joint venture with THATIC (Tianjin Haiguang Advanced Technology Investment).
AMD expects to gain $50 million from this licensing in fiscal 2017. It's also looking to secure more licensing deals in 2017 and has filed patent lawsuits for the same.
Article continues below advertisement
Details of AMD's patent lawsuits
In January 2017, AMD filed civil lawsuits against LG, Vizio, MediaTek, and Sigma Designs for infringing three generic-looking graphics patents owned by ATI which AMD acquired in 2006. The three patents relate to GPU (graphics processing unit) architecture, unified shaders, and parallel pipeline graphics.
AMD claims that the above four companies are using its technologies in the following products:
MediaTek's Helio P10 SoC (system on chip) features the Mali T860MP2 GPU it licensed from ARM. This SoC is used in some of LG's smartphone models.
Sigma's SX7 SoC features an ARM-developed quad-cluster GPU. This SoC is used in Vizio's advanced TVs.
AMD stated that Samsung (SSNLF) and GlobalFoundries have licensed its technologies before using them in their products. AMD has asked the US ITC (US International Trade Commission) to investigate the allegations and ban the import and sales of infringed products in the US. If the allegations prove true, sales of LG and Vizio's several product lines will be affected.
Nvidia's similar strategy
All the above four companies licensed their GPU technology from ARM and Imagination. AMD did not mention the name of these IP (intellectual property) vendors in its lawsuit as it is easier to accuse product manufacturers of infringement instead of an IP vendor.
Nvidia (NVDA) filed a similar lawsuit against Samsung and Qualcomm (QCOM), but later settled the case out-of-court, after Samsung's counter-suit was more successful. Unlike Nvidia, AMD has limited cash to spend on legal cases. So AMD has to maximize its chances of winning.
There were rumors of a possible licensing deal between AMD and Intel (INTC) as Intel and Nvidia's patent licensing deal expires in March 2017. No update has come from either party over a possible licensing deal.
In the next few parts of this series, we'll look at AMD's four end markets and factors that could drive growth in each of these markets.