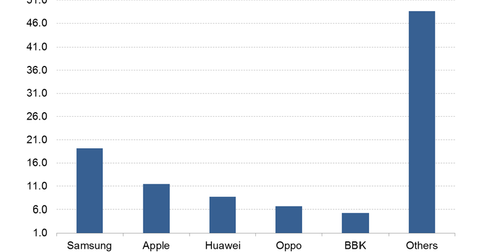 What Microsoft's Foldable Phone Could Mean for Apple
By Ruchi Gupta

Updated
Microsoft envisions a smooth transition from phone to tablet
Microsoft (MSFT) has been granted a patent for its idea of a foldable phone—almost three years after it applied for it. The patent brings back the memories of a dual-screen carrier device that Microsoft touted in 2009 before it shelved the idea.
In the newly granted patent, Microsoft envisions a device with a foldable display so that it can serve as both a smartphone that can easily fit in the pocket and a tablet that renders a larger, sharper display for easy reading.
Although it might take years before Microsoft begins to ship a foldable handset, such a device would be a game-changer, potentially emboldening Apple (AAPL), Samsung (SSNLF), and other smartphone makers to try to catch up to protect their turf.
Article continues below advertisement
Pressure of falling iPhone sales
Apple is particularly under the gun to defend its market share, following a series of sales declines in recent quarters. Notably, iPhone shipments dropped to 211.9 million units in fiscal 2016, as compared to 231.2 million units in fiscal 2015. To drive more interest in its iPhones, Apple is rumored to be developing a radically redesigned iPhone to mark its 10th anniversary in the smartphone business.
But the foldable display is not one of the features expected in the next iPhone, meaning that Microsoft holds an idea that Apple would want to get its hands on to increase the appeal of iPhones. The foldable phone idea could appeal to many professionals who are increasingly using handsets for their work as they can easily carry it around in the pocket.
Gain for partners manufacturers
If Microsoft's foldable phone idea catches on and phone makers follow suit, phone component makers such as Samsung, Japan Display, Sony (SNE), and Micron (MU) would also benefit.