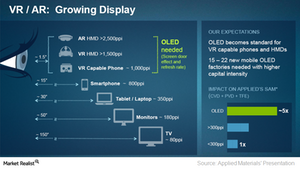 Is LCD Still a Growth Driver for AMAT's Display Revenue?
By Puja Tayal

Feb. 17 2017, Updated 7:35 a.m. ET
AMAT's Display segment to witness strong growth in 2017
In 2016, Applied Materials' (AMAT) display revenue rose 28% YoY (year-over-year) to $1.2 billion, whereas new orders rose 160% YoY to $2.2 billion. Fiscal 2016 marked the third consecutive year of revenue growth from CVD (chemical vapor deposition). The company could see growth in LCD (liquid crystal diode) and OLED (organic light emitting diode) equipment in 2017.
Article continues below advertisement
LCD continues to drive revenue growth
AMAT earns $800 million-$900 million of its annual revenue from LCD. Revenue from LCD is falling as sales of PCs and tablets fall and smartphones transition to OLED displays. However, LCD revenue is being driven by TVs.
A few first generation 10.5 LCD TV fabrication plants are being built to manufacture large-screen TVs of 60 inches and above. While the overall TV market is expected to grow by single-digit percentage points over the next three years, large format TV units are expected to grow at an annual rate of around 15% to 20%.
AMAT is also seeing increasing demand for its old lab manufacturing equipment. Looking at this demand trend, the company expects its display customers' capital spending to increase by around $2 billion in fiscal 2017. While demand is growing for LCD, demand for OLED is likely to fall in smartphones.
Adoption of ALD is a cause of concern for AMAT
AMAT may witness order cancellations for OLED as Samsung (SSNLF) and LG are considering adding ALD (Atomic Layer Deposition) technology to the flexible OLED thin-film encapsulation process. It has partnered with a few companies to supply necessary equipment and verify it.
Manufacturers put layers of thin film on OLED to protect it from water and oxygen. The number of layers differs from manufacturer to manufacturer, but the method remains the same. Manufacturers use the Vitex method where OLED is covered with organic and inorganic thin films in alternate turns.
Manufacturers can use PECVD (Plasma-Enhanced Chemical Vapor Deposition), sputtering, and ALD technology for inorganic thin-film encapsulation and Kateeva's inkjet printing technology for organic thin-film deposition. Samsung and LG are likely to switch from PECVD to ALD to improve the life of OLED.
However, ALD comes with its own drawbacks. It's more expensive and slower than the PECVD, making its adoption on larger screens difficult. As these drawbacks are slowly resolved, ALD's adoption is increasing.
Next, we'll look at AMAT's service segment. You can invest in AMAT through the SPDR S&P 500 ETF (SPY), which has holdings in US equities listed in the S&P 500 Index including 0.19% in AMAT.