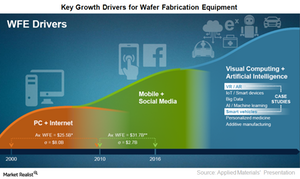 Is AMAT's Revenue Growth Cyclical or Seasonal?
By Puja Tayal

Updated
AMAT's cyclical trend
Applied Materials (AMAT) is in the midst of a major technology transition that is changing the industrial factors that affect its revenue. Gartner forecasts worldwide semiconductor equipment spending to grow by 9.9% in 2017, whereas SEMI (Semiconductor Equipment and Materials International) expects this to grow 10.6% in 2017.
AMAT's revenues are highly cyclical, as they depend on capital spending, demand slowdowns, and process migration. This cycle generally lasts for up to three years and then the demand falls.
Article continues below advertisement
Capital spending cycle
The whole cycle starts when semiconductor companies witness increasing demand for chips, which increases their revenue and profits. This part of the cycle brings in a lot of cash to semiconductor companies, and they spend it on building new manufacturing facilities or adding capacity. The new capacity is completely ramped up within two years, which increases supply.
If the demand slows, a situation of oversupply occurs, forcing semiconductor companies to cut capital spending. This situation controls the supply, and when demand increases, the whole cycle starts again.
Process migration
AMAT is currently in the cyclical uptrend where capital spending is being driven by process migration instead of capacity expansion. The company is seeing increasing demand from foundries TSMC (TSM) and Samsung (SSNLF), which are migrating to the 10-nm (nanometer) process, and memory makers Intel (INTC), Micron (MU), and Samsung are migrating to 3D NAND.
Article continues below advertisement
AMAT's growth turns seasonal
However, AMAT stated that growth is becoming more stable as the cyclical nature of its business is converting to seasonal. AMAT chief financial officer Bob Halliday compared the WFE (wafer fabrication equipment) spending during two periods, 2000–2009 and 2010–2016, and found that the standard deviation from the average has narrowed from $8 billion in the former period to $2.1 billion in the latter period. He identified four factors that changed this cyclical growth to seasonal growth:
Earlier, chip demand was largely driven by PCs (personal computers) that have multiyear enterprise replacement cycles. Now, the chip demand has diversified to mobile, which has an annual consumer replacement cycle. This trend could improve as the chip demand further diversifies with the advent of virtual reality, big data, Internet of Things, artificial intelligence, and self-driving cars.
Now, foundries add capacity based on the contracts received, which is more demand-driven than supply-driven. This trend has made foundries AMAT's biggest revenue segment.
AMAT customers are now shifting from building an entire fab to adding capacity through line extensions. This is a more flexible method and generates recurring orders for AMAT.
Earlier, PC DRAM (dynamic random access memory) was the most competitive and generic technology. Now, DRAM spending has bottomed out and spending on NAND is increasing, which is driving AMAT's revenue.