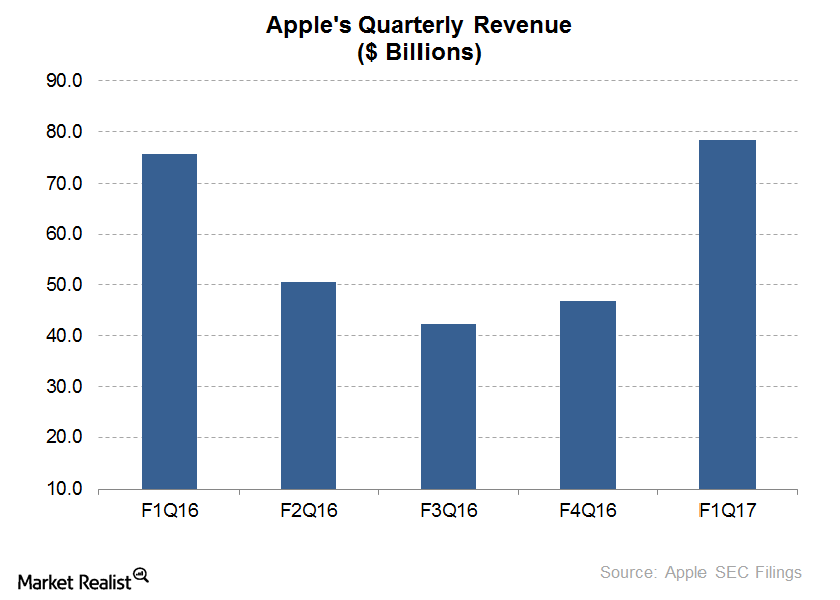 iPhone Battery Replacement Could Impact Apple's Earnings
By Ruchi Gupta

Dec. 4 2020, Updated 10:52 a.m. ET
Battery problem noted in iPhone 6
Although Apple (AAPL) surpassed expectations for fiscal 1Q17, which includes the holiday shopping season, uncertainty remains in the company's short-term future profitability. The iPhone battery problem continues to rear its ugly head, with reports that owners of the iPhone 6, which was released in 2014, are also facing battery issues. The battery issue that caused iPhones to unexpectedly shut down was first reported by owners of the iPhone 6S.
Apple offered to replace the batteries for the affected iPhone 6S devices, which would incur a cost to the company. If Apple must replace its customers' batteries for the iPhone 6 as well, the company could shoulder a substantial financial burden that could eat into its earnings.
Apple reported EPS (earnings per share) of $3.36 on revenues of $78.4 billion for fiscal 1Q17, which ended in December 2016. The figures topped consensus estimates that called for EPS of $3.21 on revenues of ~$77.3 billion.
Article continues below advertisement
Apple's options
Apple could mitigate the impact of the battery problem on its bottom line if President Trump's tax amnesty is implemented quickly, which would allow the company to repatriate the cash that it's holding overseas. The company could invest the repatriated cash in more growth, offsetting the impact of the widespread battery replacement.
Other than Apple, Microsoft (MSFT), Oracle (ORCL), Cisco (CSCO), and Alphabet (GOOGL) are other US multinationals holding billions of dollars in offshore accounts.
Unlocking new growth
Apple needs more cash to continue investing in new fields, such as its streaming music service, to diversify its revenue sources. Those efforts seem to be paying off as the company stated that its Services division drove its gains in fiscal 1Q17.
Apple's Services revenues increased 18% from the previous year to ~$7.2 billion, beating the estimate for ~$6.9 billion. Apple's Services business includes Apple Music, App Store, iTunes, and Apple Pay.