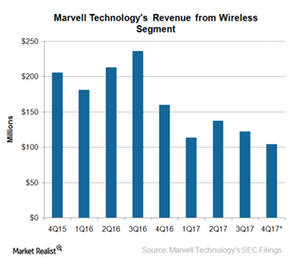 Inside Marvell's Wireless Plan
Marvell's Wireless segment
Marvell Technology (MRVL) will likely witness seasonal declines in its Storage and Networking segments. Completing its product portfolio is the Wireless and Others segment, wherein the company has actually been reducing its exposure. In fiscal 4Q16, the company exited its mobile business, which reduced the Wireless segment's revenue contribution from 35% in fiscal 3Q16 to 18% in fiscal 3Q17.
The company is still earning some revenue from its existing mobile business, which will slowly phase out. In fiscal 4Q17 (ended January 2017), the company has classified its Others business under discontinued operations as it focuses on its Wireless portfolio.
Article continues below advertisement
Revenue from Networking
In fiscal 3Q17, Marvell's Wireless and Others revenue fell 11% sequentially to $122.6 million as revenue from its existing mobile business fell 55% to $4 million, while its revenue from the Wireless and Others segment fell 7.7%. For fiscal 4Q17, the segment's revenue is expected to fall by ~15% to $104 million as its mobile revenue falls another 50% and the revenue from Others is removed.
However, revenue from the wireless portfolio is likely to remain flat in fiscal 4Q17 as Cisco has reported flat revenue in the wireless segment during the same quarter. Meanwhile, rival Broadcom (AVGO) expects to witness a mid-single-digit decline in the wireless revenue for the same quarter.
Marvell's growth strategy for Networking
Marvell plans now to focus its Wireless segment on Wi-Fi technology and high-performance products such as enterprise access points, automotive, smart home, and gaming, where it has a leadership position.
Marvell recently collaborated with NexGuard to integrate the latter's forensic watermarking technology into the former's ARMADA ultra-high definition STB (set-top box) solutions. This would add to Marvell's existing security features of conditional access and digital rights management systems and help it comply with MovieLabs Enhanced Content protection requirements.
Pay TV operators
The addition of this watermarking technology to Marvell's STB solutions would help Pay TV operators track weakened links in its content distribution chain and reach the original source of piracy. This technology would work for all types of content and would be unaffected by any type of alteration in the content such as transcoding, resizing, or downscaling.
While the restructuring would change the size of Marvell's three business segments, it should have a positive impact on its balance sheet.
Continue to the next part for a closer look at Marvell's balance sheet items.