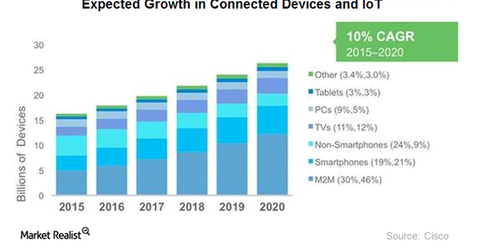 How Will the AppDynamics Acquisition Benefit Cisco?
By Adam Rogers

Updated
Cisco acquires AppDynamics for $3.7 billion
Last month, Cisco Systems (CSCO) made headlines when it announced the acquisition of AppDynamics. Cisco offered $3.7 billion in equity and cash to AppDynamics and halted its vision of being a public company. Before AppDynamics could go ahead with its planned IPO, Cisco stepped in and agreed to pay double the price of what the IPO would have brought in.
Article continues below advertisement
AppDynamics to be a part of Cisco's IoT segment
After Cisco's acquisition of Sourcefire, a security company, for $2.7 billion in 2013, AppDynamics is its largest acquisition. AppDynamics' acquisition is expected to be completed in April 2017. After the acquisition, AppDynamics will be included and integrated into Cisco's IoT (Internet of Things) and Applications unit. CEO David Wadhwani will continue to lead AppDynamics.
Cisco's last large acquisition, Jasper, for which it paid $1.4 billion, is also a part of that unit. Jasper Technologies provides cloud-based IoT service platforms and has helped a number of companies introduce their products to the market.
According to the Cisco Global Cloud Index, IoT is expected to drive data creation by any device to 600 ZB (zettabytes) per year by 2020 compared with 145 ZB per year in 2015. As the above chart shows, M2M (machine-to-machine) connections are expected to amount to 46% of total connected devices.
By employing AppDynamics' software, companies can monitor applications and rectify problems across different cloud offerings from players like Alphabet (GOOG) and International Business Machines (IBM). As companies continue to transfer their applications to run in data centers from various cloud providers, this will become more important.
Airlines, banks, and retailers use AppDynamics software to observe the performance of their applications to make sure they are running smoothly. Thus, the inclusion and integration of AppDynamics in Cisco's business could benefit its customers, as they will have enhanced end-to-end visibility and insight from the network.