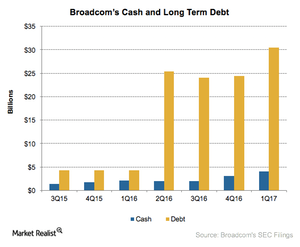 How Much Broadcom's Debt Burden Has Increased
By Puja Tayal

Updated
Broadcom's mergers and acquisitions
Broadcom (AVGO) is looking to tap opportunities from the connected world through its massive portfolio, which spans the wired, wireless, enterprise storage, and industrial sectors. The company built the portfolio through M&A (mergers and acquisitions), which significantly increased its debt.
Article continues below advertisement
Cash-debt position
After completing the $37-billion Broadcom-Avago deal, CEO Hock Tan stated that the company is not looking for further acquisitions unless it reduces its debt. However, it announced the acquisition of Brocade Communications Systems (BRCD) for a cash consideration of $5.5 billion plus $400 million in debt.
At the end of fiscal 4Q16, Broadcom had cash reserves of $3.1 billion and long-term debt of $24.5 billion. The company looks to maintain its cash reserves above $3 billion for working capital and dividend payments and fund the Brocade deal by raising new debt.
Despite the huge debt, the company is open to further acquisitions. During the company's fiscal 4Q16 earnings call, Hock Tan stated that "interesting businesses out there that are actionable, we will consider and we will act prudently and appropriately." Some analysts suspect that Broadcom's potential acquisition targets are either Maximum Integrated (MXIM) or Xilinx (XLNX).
Article continues below advertisement
Debt repayment strategy 
Broadcom could sell Brocade's IP (Internet protocol) networking division and repay some of its debt. Some analysts believe the division might fetch Broadcom around $2 billion–$2.5 billion. The company has also raised new debt of $13.5 billion in four tranches, payable in 2020, 2022, 2024, and 2027.
Broadcom could use this money to fund the Brocade acquisition, pay off some debt, and postpone debt maturity. The company still intends to reduce its net debt-to-EBITDA (earnings before interest, tax, depreciation, and amortization) ratio from 5.4x to 2x. However, it does not intend to do so by prepaying the loan. Instead, it plans to only pay the obligation according to the amortization schedule. Also, the company has doubled its dividend, which means more of its free cash flow could be directed towards dividend payments.
Broadcom's high debt a cause for concern
Broadcom's high leverage has already reduced its credit rating to investment grade. If the company's management increases its debt at an alarming rate, rating agencies could reduce their ratings and force the company to refinance its debt in the junk bond market. This refinancing would increase the company's interest cost and hurt its profits, reducing its ability to pay a higher dividend. All of these factors have reduced the company's financial flexibility. Next, we'll see if it has sufficient cash flow to maintain its working capital and pay a dividend.