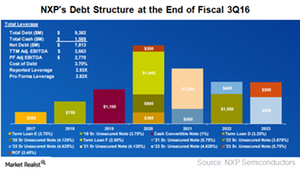 How Is High Leverage Impacting NXPI's Financial Flexibility?
By Puja Tayal

Updated
NXPI's debt impacts its financial flexibility
In the previous few parts of this series, we saw that NXP Semiconductors (NXPI) has stable earnings. However, the Freescale merger increased NXPI's leverage to an alarming level. It currently has total debt of $9.4 billion, compared to its cash reserve of $1.6 billion, bringing its net debt to $7.8 billion.
As seen from the graph below, this debt is spread between 2017 and 2023, leaving little financial flexibility for NXP Semiconductors to invest in the short term. The company has to constantly generate an adequate amount of operating cash flow to service its debt.
Article continues below advertisement
Can NXPI generate adequate cash flow to service its debt?
The Freescale merger increased NXP's annual free cash flows (or FCF) to $1.8 billion. In fiscal 1H16, FCF was slow as the company incurred integration costs. However, FCF doubled from $356 million in 2Q16 to $610 million in 3Q16 as NXP started realizing merger synergies.
NXP Semiconductors (NXPI) is expected to report FCF of over $610 million in 4Q16 as its operating margin improves. Its FCF is likely to remain more or less stable unless NXP loses a major customer or witnesses demand weakness in its Secured Interface segment.
As seen from the above graph, all years except 2020 and 2021 have debt maturity below $1.8 billion. For 2020 and 2021, NXP looks to repay a significant portion of this debt in fiscal 1Q17 from the $2.3 billion in net proceeds it would receive from the sale of its Standard Product Division.
Debt repayment strategy
NXP Semiconductors (NXPI) plans to use $1.9 billion from the $2.3 billion in sales proceeds to repay three tranches of debt:
It would first repay the $389 million debt due in 2017, giving it some flexibility in the short term.
Next, it would repay the $1 billion debt due in 2020 and $500 million debt due in 2021 to bring the maturity of all years below its annual FCF of $1.8 billion.
This would reduce NXP's total debt to $7.5 billion with a weighted cost of debt of 3.6%. Even at this level, the company's debt remains high, but its credit rating would improve slightly and allow the company to have the option to refinance its debt and postpone it to a later date and at a lower interest rate.
Looking at the above strategy, NXPI's debt looks manageable provided its free cash flows are stable. However, the company may not be financially strong enough to withstand major headwinds. With slow growth in the short term and rising competition, a merger with Qualcomm (QCOM) would free NXPI of the debt tension and allow the latter to focus on product development.
In the final part of this series, we'll look at the stock performance of NXP Semiconductors and Qualcomm, as well as analysts' expectations of the two stocks.