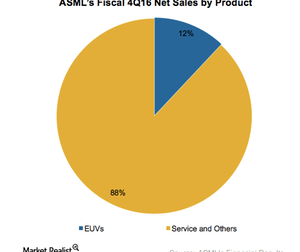 How ASML's EUV Technology Could Threaten AMAT's Foundry Business
By Puja Tayal

Feb. 16 2017, Updated 12:36 p.m. ET
ASML's EUV is finally here
In the previous part of the series, we saw that foundry is a key growth driver of Applied Materials' (AMAT) earnings. However, this growth is being threatened with the launch of EUV (extreme ultraviolet) lithography by rival ASML. EUV would allow chipmakers to imprint circuits at much finer nodes like the 7 nm and smaller.
ASML is seeing strong demand for its EUV technology, and the strong demand was reflected in its latest fiscal 4Q16 earnings. The company earned 12% of its fiscal 4Q16 revenue from EUV equipment, up from 7% in fiscal 3Q16. It has received six orders for EUV equipment and already has a backlog of 18 units. These large orders have come even though the price per EUV unit is $110 million.
Summit Redstone Partners' analyst Jagadish Iyer believes that ASML's EUV revenue will increase fourfold to $1.3 billion in fiscal 2017.
Article continues below advertisement
Benefits of EUV technology
EUV technology will likely replace the current DUV (deep ultraviolet) immersion lithography for device production for the 7-nm node. The DUV technology is ideal for 30 nm but engineers use multiple patterning processes to make finer size nodes using DUV. They purchase patterning equipment such as etch and deposition from AMAT and Lam Research (LRCX).
If manufacturers adopt EUV, the demand for patterning would take a hit. According to Mirae Asset Daewoo Research, immersion DUV requires 13 mask layers for the 20-nm node, 18 for 10 nm, and 27 for 7 nm. In EUV, this count would fall to only 14 mask layers for the 7-nm node.
Adoption of EUV poses a challenge to AMAT
AMAT's three key customers, TSMC (TSM), Samsung (SSNLF), and Intel (INTC), plan to implement EUV on the 7-nm node. AMAT earns 42% of its revenue from these three customers. Although the use of EUV wouldn't be mainstream until 2018 when 7 nm is launched, Samsung could use this technology for 3D NAND and TSMC and Intel for their 3D FinFET (Fin Field Effect Transistor) devices. The increasing adoption of EUV by these three customers could erode AMAT's patterning revenue. Patterning is a key market for AMAT, and it has invested heavily to gain market share.
AMAT doesn't consider EUV to be a threat
At the fiscal 4Q16 earnings call, AMAT chief executive Gary Dickerson stated that EUV adoption would not impact its patterning opportunity, which is expected to grow to around $3 billion by 2019. He explained that the company's growth model assumes that EUV would mainly be used for cuts and vias in foundry and logic applications, representing around 20% of the total patterning market. The remaining 80% of the market could grow significantly.
Next, we will look at AMAT's memory business.