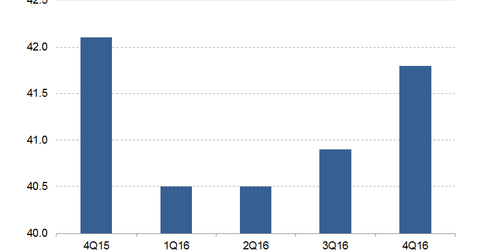 Here's What Happened When AT&T Discontinued Its 2G Support
By Ruchi Gupta

Updated
Move affects 2.3 million subscribers
AT&T (T), whose 4Q16 earnings met Wall Street expectations, made good on its threat to shut down its 2G network. When the telecommunications giant made the move, it slammed the door on ~2.3 million subscribers who still used 2G devices by the end of 2016. AT&T officially discontinued its 2G support on January 1, 2017.
The shutdown of the 2G network means that users of Apple's (AAPL) original handset, which was released in 2007, cannot operate on the AT&T network.
Article continues below advertisement
On the bright side
As painful as the move may have been, the carrier sees brighter prospects. Firstly, AT&T's management said that the discontinuation of the legacy 2G network would free up spectrum that the company can repurpose for LTE and other advanced networks such as 5G.
Secondly, ending 2G support would move more subscribers to 3G and 4G networks where data consumption is usually higher, yielding more sales for the company.
AT&T posted adjusted EPS (earnings per share) of $0.66 on revenues of $41.8 billion in 4Q16. That figure compared with revenue EPS of $0.63 and revenues of $42.1 billion in 4Q15. Consensus estimates called for EPS of $0.66 on revenues of ~$42.0 billion.
Push to faster Internet speeds
AT&T (T), Verizon (VZ), T-Mobile (TMUS), Sprint (S), and other providers are racing to enhance their networks to support faster connections amid growing demand for Internet data. Online video streaming services and the Internet of Things are two major uses of high-speed connections.
AT&T is seeking to acquire Time Warner (TWX) to strengthen its video business.